New Wallpaper Day: The Orphaned Worlds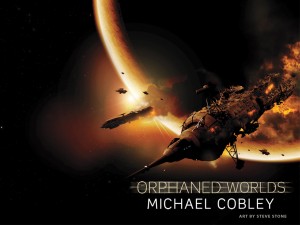 For our Orbit UK fans, we have a fresh new wallpaper taken from the cover of The Orphaned Worlds by Michael Cobley, the sequel to Seeds of Earth. (You can read more about the book and Michael Cobley here.) I am loving the series illustrations being done by an Orbit favorite Steve Stone and I can't wait to see the art plastered on all your assorted screens and digital devices. I've tried to cover all the standard display aspect ratios and devices (and yes, even the new iPad), but let me know if I've missed any important ones.
Enjoy the wallpapers, and don't forget to pick up The Seeds of Earth and The Orphaned Worlds, both available now!
1024 x 768 |1280 x 800 | 1440 x 900 | 1680 x 1050 | 1920 x 1200 | iPhone | iPad | PSP