Praise for N.K. Jemisin's THE BROKEN KINGDOMS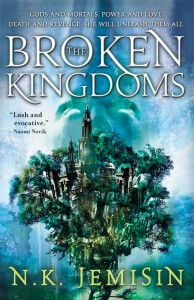 In the wake of her earlier novel, THE HUNDRED THOUSAND KINGDOMS, being selected as one of the top five sf/f novels of 2010 by Publishers Weekly and by Amazon as one of the top ten best sf/f novels for this year as well, praise for N.K. Jemisin's newest novel, THE BROKEN KINGDOMS is now spreading across the web.
Today Charlie Jane Anders at io9.com calls it "a thought-provoking, haunting story" and observes that when it comes to narrative "the key is just to tell a great, exciting, engaging story that keeps you turning pages long past your bedtime. And Jemisin has definitely done that here."
And, meanwhile, at Explorations, the Barnes & Noble Book Club sf/f blog, Paul Goat Allen wraps his review by noting that "those readers who are drawn to storylines featuring strong, heroic female characters – looking for a beautifully written and highly intelligent series should make it a point to seek out and read [THE BROKEN KINGDOMS and THE HUNDRED THOUSAND KINGDOMS]. These will be some of the very best fantasy novels you'll read this year."
We couldn't agree more!