Which Daniel Abraham book is best for you?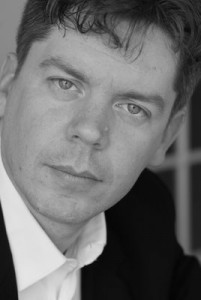 Whether it's writing urban fantasy as M. L. N. Hanover, epic fantasy under his 'real' name, or space opera as one half of James S. A. Corey (the 'James' part, apparently), there's no doubt that Daniel Abraham is a man of many talents – and many guises.
This invariably leads to two questions: why the various names, and where should you begin your Daniel Abraham experience?
We can help you with the second question, but first let's have Daniel himself answer the first:
I recognize that my take on working with a different name for each different project is a little idiosyncratic, but it's not exactly unprecedented.  Richard Stark and Donald Westlake, for instance, were openly the same guy writing very different kinds of books.  The name on the cover is one of the best ways to let people know what kind of ride they're signing on for, and that can avoid a lot of disappointment later.  There's a price to pay in that folks who like the things I do under one name might have to dig a little to find all the other stuff, but in the age of the Internet, it's a pretty low investigative bar to clear.  I think the tradeoff's worth it.

 There are also writers I know, like, and admire who don't like the idea of putting a name on their work that isn't the one they go by in the world.  Now, I know all writers are egoists, myself very much included, but that particular kink isn't one I have.  I don't care what name we put on the cover as long as I can be proud the work that went into it.

 There is another idea that if you know you like Stephen King (or Jeanette Winterson or Sebastian Junger — the model holds true for everyone), you're already better primed to like one of their books when you pick them up.  I think that if the name of the author is what makes a book good, it isn't a good book.
Many thanks to Daniel for the explanation! Now to the second question: which Daniel Abraham book is best for you? Read on and find out.
THE DRAGON'S PATH – Book One of The Dagger and the Coin (epic fantasy)
Daniel's first foray into epic fantasy was the critically acclaimed Long Price Quartet (released in the UK in two omnibus editions, SHADOW AND BETRAYAL and SEASONS OF WAR) – a beautifully written, hauntingly evocative story of how the lives of a few individuals shaped the fate of an entire world over the course of their lifetimes.
Now, with THE DRAGON'S PATH, Daniel has written what he has called his 'love letter' to the epic fantasy genre, melding classic tropes – magic, warfare, strange races and ancient secrets – with his own brand of polished writing and superb characterisation.
Summer is the season of war in the Free Cities. Marcus Wester has seen enough battles and is eager to leave before the fighting starts. Cithrin Bel Sarcour is also looking to escape, but as ward of the Medean Bank must smuggle the wealth of a doomed city out with her. Geder Palliako is the sole heir of a noble family – but is more interested in philosophy and history books than swordplay.
None of these three individuals want anything to do with war, however it seems that the growing conflict has designs on them . . . and as the fires of war spread, a secret order prepare to unleash a long-lost secret on the world.
Suitable for fans of George R. R. Martin, Steven Erikson, Brandon Sanderson and Peter Brett.
Praise for THE DRAGON'S PATH (UK | US | ANZ):
Everything I look for in a fantasy' – George R. R. Martin

'A tremendous novel . . . Abraham deftly mixes the classic foundations of the genre with a sophistication expected of him and rarely found in the work of his compatriots' – A Dribble of Ink

'THE DRAGON'S PATH is a winner. The characters are engaging and well-motivated, the plot intriguing' – The Wertzone

'A superb first instalment in a series that has established itself already in my top level of current ongoing fantasy series' – Fantasy Book Critic
 The second book in the Dagger and the Coin series, THE KING'S BLOOD, is due out in May.
LEVIATHAN WAKES – Book One of The Expanse series (space opera)
Co-written with Ty Franck under the pseudonym of James S. A. Corey, LEVIATHAN WAKES is an explosive space opera that mixes space battles and a terrifying extra-terrestrial threat with a hardboiled, noir mystery. The novel has received a huge amount of critical acclaim and has recently been nominated for the Hugo award. 
Humanity has colonised the planets, but the stars remain out of reach. An uneasy peace exists between the peoples of Earth, Mars and the asteroid belt. Jim Holden is an executive officer on board an ice mining vessel, and when he stumbles across a derelict ship after answering a distress call, he unwittingly sets into motion a chain of events that has only one outcome: a war that threatens the entire solar system.
Yet as the different human factions prepare for war, they have no idea that the growing conflict is the least of their worries . . .
Suitable for fans of Iain M. Banks, Peter F. Hamilton, Alistair Reynolds and Michael Cobley.
Praise for LEVIATHAN WAKES (UK | USA | ANZ):
A ridiculously entertaining space opera . . . A relentless, page-turning novel with some great character-building' – The Wertzone

'The world building, hands down, is some of the best that I've seen for a space opera novel, with a good cast of characters and story that go along with it . . . This novel feels like a breath of fresh air, trading in the galaxy for our solar system, but retaining an sense of the epic' – SF Signal

'It's fast, it's fun and it's escapist science fiction in the purest sense of the term. One can only hope that The Expanse is expansive, indeed' – A Dribble of Ink 

'If you love tales packed with worldbuildy details like how humans cored asteroids, pumped them full of atmosphere, and spun them up for gravity's sake, then you'll love this novel to pieces' – i09
 Book two in the Expanse series, CALIBAN'S WAR, is out in May.
UNCLEAN SPIRITS – Book 1 of The Black Sun's Daughter (Urban fantasy)
Daniel's final disguise is that of M. L. N. Hanover, under which he writes pacy, action-packed urban fantasy featuring a heroine who is strong and sassy, yet who often doubts her ability to tackle the burden that life has given her.
Jayné Heller lacks a clear direction in life – she's dropped out of college and doesn't get on with her family. So when her uncle Eric dies and leaves all his possessions to her (which just so happens to include properties all over the world, along with a not-inconsiderable amount of cash) it seems that she has the chance to start her life afresh.
Except that this new-found wealth comes with a sinister price. It turns out that her uncle Eric was fighting a secret battle against 'riders' – evil spirits that take over human bodies and then control them. And it seems to be Jayné's responsiblity to carry on this war from where her uncle left off . . .
Suitable for fans of Kelley Armstrong, Patricia Briggs and Ilona Andrews.
Praise for UNCLEAN SPIRITS (UK | ANZ):
Between the novel's energetic pacing, Jayné's undeniable charm, and the intriguing concept behind the riders, UNCLEAN SPIRITS is a solid entry in the urban fantasy genre' – Fantasy Book Critic

'Hanover's treatment of the subject matter makes it a very entertaining book where the pages turn all too easily. I'll be back for more and I reckon I'll see you there with me' – Graeme's Fantasy Book Review

'A strong beginning to an intriguing Urban Fantasy series, UNCLEAN SPIRITS introduces readers to a fascinating new supernatural world. M. L. N. Hanover's debut novel in the genre teems with promise, and I am excited to see where the next book leads' – Book Smugglers
The next three books in the Black Sun's Daughter series – DARKER ANGELS, VICIOUS GRACE and KILLING RITES are all now available in the UK.
So there you have it – hopefully this guide to the wonderful worlds of Daniel Abraham has helped you decide where best to start reading.
Daniel Abraham can be found online at his website. He is also on twitter as @AbrahamHanover.