Wallpapers: THE BLINDING KNIFE by Brent Weeks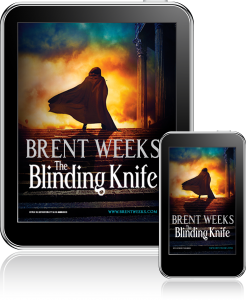 Only two weeks to go before the big release of THE BLINDING KNIFE (UK | US | AUS) by Brent Weeks! Gavin, Kip, Karris, and all of your favorites are gearing up for the next adventure. If you haven't pre-ordered your copy, be sure and do so through your favorite retailer.
Meanwhile, show your true colors as a fan of the Lightbringer series with these striking wallpapers.
iPad | iPhone/iPod | 1024 x 768 | 1280 x 800 | 1440 x 900 | 1680 x 1050 | 1920 x 1200 | Facebook cover image
In other Brent Weeks news, the book tour kicks-off on the 11th in Beaverton, Oregon. Visit the Brent Weeks Facebook page to see if he'll be coming to a town near you.
Staffer's Book Reviews posted a spoiler-free review of THE BLINDING KNIFE yesterday saying, "It isn't only the best book he's written; I consider it one of the best epic fantasies I've read." Click to read the full review.
Comic Book Therapy also posted an interview with Brent earlier today. As a warning to those of you who have not read THE BLACK PRISM yet there will be spoilers here.