Introducing THE HYDROGEN SONATA by Iain M. Banks
This doesn't seem possible to me, but Iain M. Banks' first Culture novel, CONSIDER PHLEBAS (UK | US | AUS), was published 25 years ago – making this year, according to our calculations, the 25th anniversary of the Culture. For anyone who has experienced the ridiculous awesomeness of the Culture novels, this is of course a rather special occasion demanding a hearty cheer at the very least – and a large statue at most. Or something in between, such as these cupcakes we made to celebrate in our own way.
But what better way to celebrate than with a brand new Culture novel? None! Conveniently released this month around the world, THE HYDROGEN SONATA (UK | US | AUS)  is a science fiction-shaped marvel that is already grabbing the attention of reviewers. Look at these for starters:
"This rich, sweeping panorama of heroism and folly celebrates the 25th anniversary of the Culture, Banks's far-future semi-utopian society…. The action tumbles along at a dizzying pace, bouncing among a fascinating array of characters and locales. It's easy to see why Banks's fertile, cheerfully nihilistic imagination and vivid prose have made the Culture space operas bestsellers and award favorites." — Publishers Weekly
"Banks' Culture yarns … brim with wit and wisdom, providing incomparable entertainment, with fascinating and highly original characters, challenging ideas and extrapolations, and dazzling action seamlessly embedded in a satirical-comedy matrix." — Kirkus Reviews
"One of Banks' best Culture novels to date." — Booklist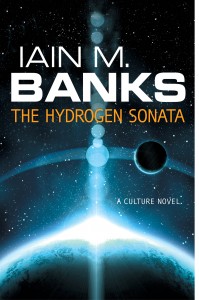 "A supremely enjoyable read … Banks' charming prose and the scale of his imagination continue to delight Culture vultures" – SFX

"It's fantastically good fun" — SciFi Now
To help celebrate the release of THE HYDROGEN SONATA and the 25th anniversary of the Culture, you have three basic options:
Say, "Hip, hip, hurrah for the Culture!"
Read the first chapter of THE HYDROGEN SONATA here.
Try to make Culture cupcakes better than ours.
Choose wisely.