Looking back at SPEED OF DARK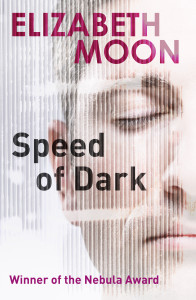 SPEED OF DARK is a profound, powerful near-future novel by Elizabeth Moon, which tells the story of a young man with autism who is offered a possible 'cure' for his condition.
 The book's fans include Jo Walton, Greg Bear and the late, great Anne McCaffrey. It was the winner of the Nebula Award, was shortlisted for a Clarke and can truly be said to have achieved classic status since it was first published over a decade ago.
This is why we're delighted to announce that SPEED OF DARK (UK|ANZ) has been chosen as  the next Hodderscape Review Project pick. We can't wait to find out what Hodderscape's team of reviewers think of this novel, ten years on and ten years closer to the future which it described . . .
A previous Orbit title on the Hodderscape Review Project was Ursula Le Guin's THE LEFT HAND OF DARKNESS (UK|ANZ): read the reviews here.