Cover Launch: THE OBELISK GATE by N. K. Jemisin
We are excited to release the cover for THE OBELISK GATE, which was launched at The Mary Sue earlier this week.  This is the second novel in the Broken Earth series by N. K. Jemisin, and we know that you'll love it as much as you did the first novel, THE FIFTH SEASON (US | UK | AUS). The Obelisk Gate continues the story of Essun and Alabaster as each continue their search.  A post-apocalyptic fantasy at its core, this is a novel of the end of the world, of secrets revealed and of betrayals that still scar the land.
THIS IS THE WAY THE WORLD ENDS… FOR THE LAST TIME.

The season of endings grows darker as civilization fades into the long cold night.  Alabaster Tenring — madman, world-crusher, savior — has returned with a mission:  to train his successor, and thus seal the fate of the Stillness forever.

It continues with a lost daughter, found by the enemy.

It continues with the obelisks, and an ancient mystery converging on answers at last.

The Stillness is the wall which stands against the flow of tradition, the spark of hope long buried under the thickening ashfall. And it will not be broken.
Check out what reviewers have been saying about The Fifth Season: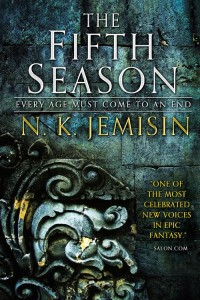 "Intricate and extraordinary."
— New York Times
"[Jemisin has packed] sumptuous detail and dimensionality… into her premise. … Jemisin maintains a gripping voice and an emotional core that not only carries the story through its complicated setting, but sets things up for even more staggering revelations to come."
— NPR Books
"Elegiac, complex, and intriguing…. Jemisin's graceful prose and gritty setting provide the perfect backdrop for this fascinating tale of determined characters fighting to save a doomed world."
— Publishers Weekly (starred review)
"Multi-award winner Jemisin breaks uncharted ground with this long-awaited title…. A must-buy for all speculative fiction collections."
— Library Journal (starred review)
"Jemisin might just be the best world builder out there right now…. [She] is a master at what she does."
— RT Book Reviews (Top Pick!)
"[The Fifth Season is] an ambitious book, with a shifting point of view, and a protagonist whose full complexity doesn't become apparent till toward the end of the novel."
— Guardian