Cover Launch: The final book in the Hugo-award winning Broken Earth series
The highly lauded and award winning Broken Earth series by N. K. Jemisin comes to its remarkable conclusion in THE STONE SKY. The first book in the series won the Hugo award and was shortlisted for the Nebula, Audie, and Locus award, was the inaugural Wired.com book club pick, and was a New York Times Notable Book of 2015. The sequel, The Obelisk Gate, was chosen as one of NPR's Best of the Year and one of Amazon's Best Books of 2016.
THE STONE SKY, publishing in August 2017, closes out a trilogy that is haunting, beautiful, and surprisingly prescient. Our earth-shattering cover for the third book was designed by Wendy Chan.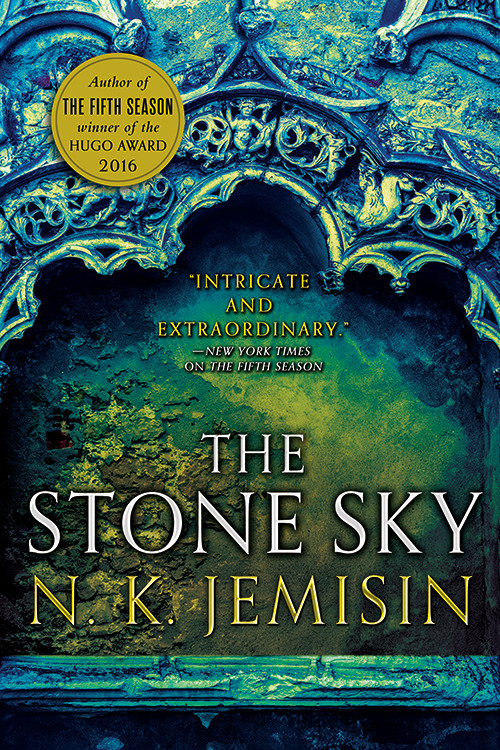 THIS IS THE WAY THE WORLD ENDS . . . FOR THE LAST TIME.
Check out what reviewers have been saying about the Broken Earth series:
"Intricate and extraordinary."—  New York Times on The Fifth Season
"[Jemisin has packed] sumptuous detail and dimensionality… into her premise. … Jemisin maintains a gripping voice and an emotional core that not only carries the story through its complicated setting, but sets things up for even more staggering revelations to come." — NPR Books on The Fifth Season
"Elegiac, complex, and intriguing…. Jemisin's graceful prose and gritty setting provide the perfect backdrop for this fascinating tale of determined characters fighting to save a doomed world." — Publishers Weekly (starred review) on The Fifth Season
"Jemisin's follow-up to The Fifth Season is exceptional. Those who anxiously awaited this sequel will find the only problem is that the wait must begin again once the last page is turned." — Library Journal (starred review) on The Obelisk Gate
"Stunning, again." — Kirkus (starred review) on The Obelisk Gate
"A strong continuation of Jemisin's most accomplished series yet, set in her most precarious world." — RT Book Reviews (Top Pick!) on The Obelisk Gate