Cover Launch: AN ECHO OF THINGS TO COME by James Islington
James Islington exploded onto the fantasy scene last year with his blockbuster debut THE SHADOW OF WHAT WAS LOST [UK/US/ANZ]. Now this epic tale of adventure continues in AN ECHO OF THINGS TO COME [UK/US] – and we're delighted to share the amazing cover with you!
Jacket design: Lauren Panepinto / illustration by Dominick Saponaro
DARKNESS FALLS ACROSS A LAND IN DESPERATE NEED OF HEROES
An amnesty has been declared for all Augurs – finally allowing them to emerge from hiding and openly oppose the dark forces massing against Andarra. However, as Davian and his new allies hurry north towards the ever-weakening Boundary, fresh horrors along their path suggest that their reprieve may have come far too late.
Meanwhile, Caeden continues to wrestle with the impossibly heavy burdens of his past. Yet as more and more of his memories return, he begins to realise that the motivations of the two sides in this ancient war may not be as clear-cut as they first seemed . . .
AN ECHO OF THINGS TO COME will be published in August!
Praise for the Licanius trilogy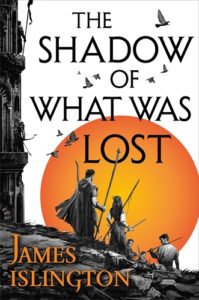 'A storytelling assurance rare for a debut . . . Fans of Robert Jordan and Brandon Sanderson will find much to admire' Guardian
'Wonderful worldbuilding and terrific characters' Boingboing.net

'Will appeal to anybody looking for a coming-of-age fantasy tale with likeable characters and strong worldbuilding' Fantasy Faction

'Love the Wheel of Time? This is about to become your new favourite series' Barnes & Noble SF and Fantasy Blog