In our new Author Spotlight feature, we'll be focusing on a different author every few months – be it a classic writer who has stood the test of time, or new author destined to be a future classic. We'll be discussing just what it is that makes their body of work outstanding, their worlds mesmerising and their stories un-put-downable.
The section is designed to give a brief introduction to those who have always been tempted to try a certain author, but are unsure about where to start. We hope it will give you all the tools and inspiration necessary to embark upon an new reading adventure, to dip your toe in the waters of possibility and – who knows? – perhaps dive head-first into a whole new universe!
This month, the author in the spotlight is: Elizabeth Moon
Who is Elizabeth Moon?

Where should I start?

What are people saying?
Who is Elizabeth Moon?
The Nebula Award-winning Elizabeth Moon has been writing brilliant science fiction and fantasy for over two decades now. She's truly one of the genre's classic writers.
Before Moon became a full-time writer, she achieved a degree in History and a degree in Biology and also went into the United States Marine Corps, where she attained the rank of 1st Lieutenant while on active duty.
Publishing her first story in 1986, and her first novel three years after that, Elizabeth Moon quickly became a fan favourite among science fiction and fantasy readers.
Elizabeth currently lives in Austin, Texas with her husband and their son. You can find out more about Elizabeth at her website, or follow her on twitter @emoontx to keep up to date.
Where should I start?
Elizabeth is loved equally for her science fiction and her fantasy, so where you should start is really up to you!
Science Fiction
SPEED OF DARK tells the powerful story of an autistic young man working for a bioinformatics company, who is offered an experimental 'cure' for autism by the company he works for, but he's not sure he wants to take it. Elizabeth was inspired to write SPEED OF DARK by her own autistic son, Michael, and the story won the Nebula Award for Best Novel in 2003, as well as being shortlisted for an Arthur C. Clarke award.
If science fiction epics with space battles and heroic deeds are your sort of thing, try the Serrano Legacy series, chronicling the adventures of space pilot Heris Serrano and her descendents.
Heris Serrano was an officer born of a long line of officers. A life in the Regular Space Service was all she had ever wanted, until a traitorous superior forced her to resign her commission. This wasn't just the end of her military career; it was the end of everything that gave her life meaning. She finds employment as the 'Captain' of an interstellar luxury cruiser, but not all is as it seems aboard the Sweet Delight. . .
There are eight novels in this series, (HUNTING PARTY, SPORTING CHANCE, WINNING COLOURS, ONCE A HERO, RULES OF ENGAGEMENT, CHANGE OF COMMAND, AGAINST THE ODDS) which have also been published in these beautiful omnibus editions: THE SERRANO LEGACY, THE SERRANO CONNECTION and THE SERRANO SUCCESSION.
The entire series is available to buy from all good ebook retailers, and so is the first omnibus.
Moon's other sceince fiction series, Vatta's War, is out in print and ebook formats, beginning with TRADING IN DANGER, then MOVING TARGET, ENGAGING THE ENEMY, COMMAND DECISION, and concluding with the explosive VICTORY CONDITIONS. This series follows Kylara Vatta, a daughter of the Vatta family, who run the interstellar shipping corporation Vatta Enterprises. Kylara struggles to find a career outside of her family's corporation and enrolls in the Spaceforce Academy, but soon her family comes under attack and she must help to defend them.
Standalone SF epic REMNANT POPULATION tell the story of the widow Ofelia, the only remaining settler on an abandoned planet, that is until ships full of a race of new colonists begin to arrive. . .
Epic Fantasy
If epic fantasy is more to your tastes, you could try reading THE DEED OF PAKSENARRION omnibus in ebook or print, which contains the trilogy THE SHEEPFARMER'S DAUGHTER, DIVIDED ALLEGIANCE and OATH OF GOLD.
Paksenarrion wasn't planning to submit to an unwelcome marriage and a lifetime of poverty, so she left her village with a plan and her grandfather's sword. And a few weeks later, she was installed as Duke Phelan's newest recruit in a company of soldiers for hire, her arms training about to begin. But when Paks sees combat, she's stabbed with an ensorcelled knife and barely survives. Then the near-misses start mounting up, raising questions about this young fighter. Is she attracting evil because she is a danger to them all? Or is there another reason malignant forces seek her life?"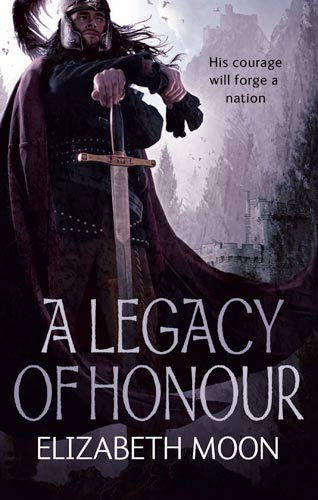 A LEGACY OF HONOUR is an epic fantasy omnibus, containing the prequels to THE DEED OF PAKSENARRION: the Legacy of Gird series, SURRENDER NONE,  and LIAR'S OATH. Paksenarrion was the finest paladin her world would ever see, but she could never have fulfilled her destiny had it not been for one who came before: Gird, the Liberator.
In a future age, Gird will be known as the patron saint of warriors. And although he inspired a legend, he was once just a man with a cause. . .
Also in the same genre, we're currently publishing Elizabeth's Paladin's Legacy series. This fantasy saga begins with OATH OF FEALTY, KINGS OF THE NORTH and ECHOES OF BETRAYAL and will continue with the publication of  LIMITS OF POWER in June this year.
 What are people saying?
Anne McCaffrey, author of the Dragonriders of Pern series, on Paladin's Legacy:-
What sheer delight… an engrossing new adventure."
Locus Magazine on the Legacy of Gird:-
A highly entertaining adventure… thrilling."
Hugo and Nebula award-winning science fiction author Greg Bear, on the Serrano Legacy series:-
Absolutley compelling."
Science fiction author Jack McDevitt on SPEED OF DARK:-
Lou is unforgettable. One of those are characters who changes forever the perspective of the reader."
 Guardian on Vatta's War:-
Continues to get better with every volume… roll on the next one."
SciFi.com:-
She deserves all her success – and more."