- Anne Clarke - May 6th, 2011
The lovely Trudi Canavan arrived in London this week, and her UK tour kicked off yesterday in style with a welcome glass of bubbly at the Little, Brown office, where she was ambushed by a flurry of inhouse fans eager for her to sign their copies of her newly published hardback The Rogue (which she did, very graciously) followed by a jampacked signing at Forbidden Planet in London. Here's how the evening went in photos:
Pre-mayhem pose in Forbidden Planet, just before we let in the hordes:
 Hope your arm doesn't fall off, Trudi – the queue doesn't look like going down any time soon . . .
And here's your first fan:
We've never had a request for an author to sign a Kindle before, but last night not one but two superfans were delighted when Trudi agreed to do just that – in permanent silver marker!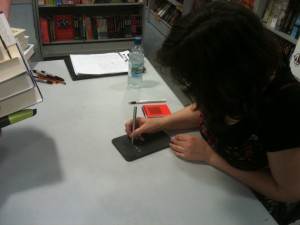 A close-up of the freshly autographed Kindle:
Finally, here's a posh arty pic of Trudi signing a non-digital book:
All in all it was a great evening – over 200 books signed for the extremely happy fans, Trudi was touched and delighted to see everyone, and it was the best possible start to her first major UK and European tour. Trudi is off to Ireland today for some events in Dublin, then back to England next week where she will be meeting fans at Costa Coffee in The Peacock's Centre, Woking on Monday 9th May at 7pm – tickets are still available from Waterstone's Woking.  She will also be on twitter for a Waterstone's 'twinterview' at 4pm on Tuesday 10th May.  Just tweet your questions using #tcav and there are signed copies of The Rogue for the best questions!
For a list of all Trudi's other UK events, just click here or click the link on the right hand side of this page to find the one nearest you.