- Anna Gregson - August 13th, 2015
Today we're excited to unveil the cover for THE LAZARUS WAR: LEGION (UK | US | ANZ).
If you like gripping action and adventure in deep space, along with tales of elite fighters and frightening alien tech (we certainly do!), then this series is for you. We love it with a passion . . .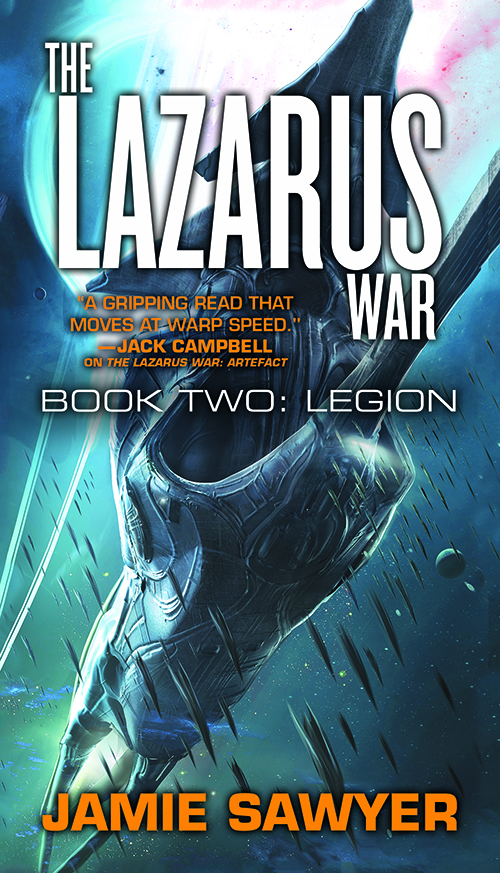 This great artwork comes from the artist Ioan Dumitrescu. This is the second book in the series following THE LAZARUS WAR: ARTEFACT (UK | US | ANZ), which is already available digitally. It features Conrad Harris, otherwise known as Lazarus. He's a man who has died a hundred deaths. There are some battles in deep space which no human could survive . . . So Lazarus and his team run suicide missions against a hostile alien race in remotely operated simulant bodies.
This series is from Jamie Sawyer, a great new talent on the SF scene. You can find him on Twitter as @JSawyerAuthor. Check out what some other great science fiction authors have been saying about his series:
'A gripping read that moves at warp speed' Jack Campbell, author of the Lost Fleet novels

'Starships sporting particle beam weapons, railguns the size of skyscrapers, laser batteries, missiles… And then there are the uber-human super-soldiers clad in powered armour and wielding plasma weapons… Is that enough for you?…This, dear readers, is the good stuff. Recommended' Neal Asher, author of the Agent Cormac novels

'A highly promising science fiction debut – a fun, gripping adventure story, with a mystery at its core that kept me turning the pages' Gary Gibson, author of STEALING LIGHT

'An adrenaline shot of rip-roaring military SF packed with cinematic action sequences and tightly drawn characters' Stephen Deas, author of ELITE: WANTED, EMPIRES: EXTRACTION
THE LAZARUS WAR: ARTEFACT (UK | US | ANZ), is already available as an ebook, and THE LAZARUS WAR: LEGION (UK | US | ANZ) is available for pre-order now. It releases as a digital-first edition in under a month, on the 1st September 2015.
The complete series will be released in print next year, but now's a great time to get ahead of the game and snap it up in ebook for a reduced price. You'll see just why Jamie is such an exciting new talent with big things to come!
Check out the blurb for THE LAZARUS WAR: LEGION below… Read the rest of this entry »