- Anna Gregson - March 28th, 2013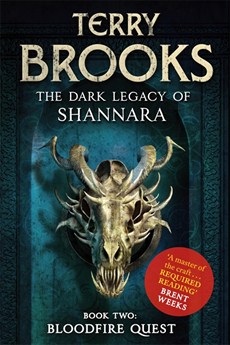 Terry Brooks's latest epic fantasy book BLOODFIRE QUEST (UK | ANZ) has been released this month. It's the second book in The Dark Legacy of Shannara series and is delighting fans everywhere:
'Nearly every page is filled with tension and passionate storytelling . . . Bloodfire Quest is a fine follow-up to Wards of Faerie and continues to prove that The Dark Legacy of Shannara is one of the most exciting and satisfying trilogies that Brooks has written in years'  A DRIBBLE OF INK

'Shannara fans will delight in Brooks's twists, sorcerous action, skilled characterizations, and rapid-fire storytelling ' PUBLISHERS WEEKLY

'Shannara continues to deepen, and Brooks continues to color his world with new hues . . . BLOODFIRE QUEST is an epic adventure packed into 350 pages, delivering more of a punch than many trilogies provide in three books' BOOK REPORTER
Don't forget that if you live in the UK, there's just under a week until Terry visits for the first time in over 5 years. There's a facebook group here for his signing on 3rd April at 6pm at Forbidden Planet London.
And don't fear if you can't make it – UK fans still have time to submit questions and will receive an awesome dragon skull badge at the same time…