The Kingdom of Gods
The Inheritance Trilogy 3
N.K. Jemisin
April-12 | 978-0-316-04394-6 | MASS MARKET
The incredible conclusion to the Inheritance Trilogy, from one of fantasy's most acclaimed stars.
For two thousand years the Arameri family has ruled the world by enslaving the very gods that created mortalkind. Now the gods are free, and the Arameri's ruthless grip is slipping. Yet they are all that stands between peace and world-spanning, unending war.
Shahar, last scion of the family, must choose her loyalties. She yearns to trust Sieh, the godling she loves. Yet her duty as Arameri heir is to uphold the family's interests, even if that means using and destroying everyone she cares for.
As long-suppressed rage and terrible new magics consume the world, the Maelstrom — which even gods fear — is summoned forth. Shahar and Sieh: mortal and god, lovers and enemies. Can they stand together against the chaos that threatens?
Includes a never before seen story set in the world of the Inheritance Trilogy.
The Rogue
The Traitor Spy Trilogy 2
Trudi Canavan
April-12 | 978-0-316-03784-6 | MASS MARKET
Discover the magic of Trudi Canavan with her brand new novel in the Traitor Spy Trilogy…
Living among the Sachakan rebels, Lorkin does his best to learn about their unique magic. But the Traitors are reluctant to trade their secrets for the Healing they so desperately want.
Meanwhile, Sonea searches for the rogue, knowing that Cery cannot avoid assassination forever–but the rogue's influence over the city's underworld, however, is far greater than she feared.
And in the University, two female novices are about to remind the Guild that sometimes their greatest enemy is found within…
The Return Man
V. M. Zito
April-12 | 978-0-316-21828-3 | MASS MARKET
The outbreak tore the US in two. The east remains a safe haven. The west has become a ravaged wilderness, known by survivors as the Evacuated States. It is here that Henry Marco makes his living. Hired by grieving relatives, he tracks down the dead and delivers peace.
Now Homeland Security wants Marco for a mission unlike any other. He must return to California, where the apocalypse began. Where a secret is hidden. And where his own tragic past waits to punish him again.But in the wastelands of America, you never know who — or what — is watching you.
Vengeance
The Tainted Realm 1
Ian Irvine
April-12 | 978-0-316-07284-7 | TRADE PAPERBACK
Ten years ago, two children witnessed a murder that still haunts them as adults.
Tali watched as two masked figures killed her mother and now, she has sworn revenge. Even though she is a slave. Even though she is powerless. Even though she is nothing in the eyes of those who live above ground, she will find her mother's killers and bring them to justice.
Rix, heir to Hightspall's greatest fortune, is tormented by the fear that he's linked to the murder, and by a sickening nightmare that he's doomed to repeat it.
When a chance meeting brings Tali and Rix together, the secrets of an entire kingdom are uncovered and a villain out of legend returns to throw the land into chaos. Tali and Rix must learn to trust each other and find a way to save the realm — and themselves.
Orcs: Inferno
Stan Nicholls
April-12 | 978-0-316-03371-8 | TRADE PAPERBACK
Using the mysterious artifacts known as instrumentalities, the Wolverines embarked on a world-hopping mission to liberate fellow orcs and to take revenge on their old antagonist Jennesta. But it isn't working out too well for the warband. Saddled with novices and a pair of humans of doubtful loyalty, and pursued by a powerful group bent on retrieving the instrumentalities, life is proving far from simple.
And destiny has more complications in store. The instrumentalities can no longer be relied upon and have left the band trapped in a world where enemies mass on every side. While tensions in the band threaten to rip it apart, Thirzarr, mate of Wolverines captain Stryke, has been seized by Jennesta and faces a living death.With the fate of worlds at stake, daunting obstacles, and fresh adversaries blocking their path, the Wolverines are about to be drawn into the greatest battle of their lives.
Night Angel
Brent Weeks
April-12 | 978-0-316-20128-5 | TRADE PAPERBACK
The omnibus edition of New York Times bestselling author Brent Weeks' blockbuster NIGHT ANGEL TRILOGY.
For Durzo Blint, assassination is an art — and he is the city's most accomplished artist.For Azoth, survival is just the beginning. He was raised on the streets and knows an opportunity when he sees one — even when the risks are as high as working for someone like Durzo Blint.
Azoth must learn to navigate the assassins' world of dangerous politics and strange magics – and become the perfect killer.THE NIGHT ANGEL TRILOGY, one of the most popular epic fantasy series in recent years, is compiled into one volume for the first time. Included in this omnibus edition are: The Way of Shadows, Shadow's Edge, and Beyond the Shadows.
A Blight of Mages
Karen Miller
May-12 | 978-0-316-19834-9 | MASS MARKET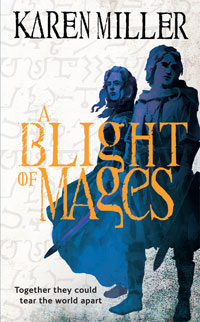 Hundreds of years before the great Mage War, a land lies, unknowing, on the edge of catastrophe…
Barl is young and impulsive, but she has a power within that calls to her. In her city, however, only those of noble blood and with the right connections learn the ways of the arcane. Barl is desperate to learn-but her eagerness to use her power leads her astray and she is banned from ever learning the mystic arts.
Morgan holds the key to her education. A member of the Council of Mages, he lives to maintain the status quo, preserve the mage bloodlines, and pursue his scholarly experiments. But Barl's power intrigues him-in spite of her low status.
Together, he realizes they can create extraordinary new incantations. Morgan's ambition and Barl's power make a potent combination. What she does not see is the darkness in him that won't be denied. A Blight of Mages is the new novel set in the world of Karen Miller's bestselling debut The Innocent Mage.
Wizard Undercover
Rogue Agent 4
K.E. Mills
May-12 | 978-0-316-12022-7 | MASS MARKET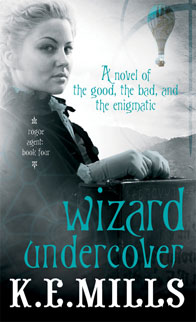 There may be trouble ahead …
Wedding bells are ringing for the constantly battling nations of Splotze and Borovnik, and the upcoming royal nuptials could at last put an end to their dangerous hostilities. But in a development that hardly bodes well, one of Gerald's fellow janitors goes missing i- after delivering a dire warning of danger surrounding the marriage treaty. So Gerald must embark on a dangerous mission to uncover the troublemakers, before wedded bliss becomes international war.But going undercover isn't as easy as it looks, even with Melissande and Emmerabiblia for camouflage. Soon Gerald finds himself fighting for his life as well as world peace.
The Minority Council
Matthew Swift 4
Kate Griffin
May-12 | 978-0-316-18725-1 | MASS MARKET
Matthew Swift, sorcerer, Midnight Mayor, is in charge. Or so he'd like to think. And London, being London, is having its issues. Drug use is rampant. Teenage vandalism is driving away business. Violent crimes are on the rise. Once upon a time, Matthew Swift wouldn't have given a toss. Now it's his mess to clean up.
Especially when the new drug on the market is fairy dust and the production process involves turning humans into walking drug labs. And when the teenage vandals are being hunted by a mystical creature. And when the petty criminals of London start dying by magical means.
It becomes clear that not only is this Swift's mess to clean up, but someone is trying to tell him how to do his job. Now he has to sort out who's behind the crime wave and who's interfering in his business. Swift has a lot of old enemies and few friends. If he's going to save London from a rising tide of blood — he's going to have to learn his lessons and fast.
The Killing Moon
Dreamblood 1
N.K. Jemisin
May-12 | 978-0-316-18728-2 | TRADE PAPERBACK
The city burned beneath the Dreaming Moon.
In the ancient city-state of Gujaareh, peace is the only law. Upon its rooftops and amongst the shadows of its cobbled streets wait the Gatherers — the keepers of this peace. Priests of the dream-goddess, their duty is to harvest the magic of the sleeping mind and use it to heal, soothe…and kill those judged corrupt.
But when a conspiracy blooms within Gujaareh's great temple, Ehiru — the most famous of the city's Gatherers — must question everything he knows. Someone, or something, is murdering dreamers in the goddess' name, stalking its prey both in Gujaareh's alleys and the realm of dreams. Ehiru must now protect the woman he was sent to kill — or watch the city be devoured by war and forbidden magic.
2312
Kim Stanley Robinson
May-12 | 978-0-316-09812-0 | HARDCOVER BOOK
The year is 2312. Scientific and technological advances have opened gateways to an extraordinary future. Earth is no longer humanity's only home; new habitats have been created throughout the solar system on moons, planets, and in between. But in this year, 2312, a sequence of events will force humanity to confront its past, its present, and its future.
The first event takes place on Mercury, on the city of Terminator, itself a miracle of engineering on an unprecedented scale. It is an unexpected death, but one that might have been foreseen. For Swan Er Hong, it is an event that will change her life. Swan was once a woman who designed worlds. Now she will be led into a plot to destroy them.
The King's Blood
The Dagger and the Coin 2
Daniel Abraham
May-12 | 978-0-316-08077-4 | TRADE PAPERBACK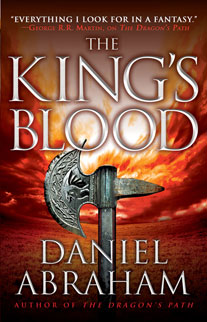 War casts its shadow over the lands that the dragons once ruled.
When an act of harrowing betrayal threatens to set the cities afire, all certainties are called into question. Only the courage of a young woman with the mind of a gambler and loyalty to no one stands between hope and universal darkness.
The high and powerful will fall, the despised and broken shall rise up, and everything will be remade. And quietly, almost beneath the notice of anyone, an old, broken-hearted warrior and an apostate priest will begin a terrible journey with an impossible goal: destroy a Goddess before she eats the world.
THE KING'S BLOOD is the second chapter in the thrilling fantasy series The Dagger and the Coin.
The Science of Avatar
Stephen Baxter
May-12 | 978-0-316-13347-0 | TRADE PAPERBACK
Audiences around the world have been enchanted by James Cameron's visionary Avatar, with its glimpse of the Na'vi on the marvelous world of Pandora. But the movie is not entirely a fantasy; there is a scientific rationale for much of what we saw on the screen, from the possibility of travel to other worlds, to the life forms seen on screen and the ecological and cybernetic concepts that underpin the 'neural networks' in which the Na'vi and their sacred trees are joined, as well as to the mind-linking to the avatars themselves.
From popular science journalist and acclaimed science fiction author Stephen Baxter, THE SCIENCE OF AVATAR is a guide to the rigorous fact behind the fiction. It will enhance the readers' enjoyment of the movie experience by drawing them further into its imagined world.
Blackout
The Newsflesh Trilogy 3
Mira Grant
June-12 | 978-0-316-08107-8 | MASS MARKET
Rise up while you can. – Georgia Mason
The year was 2014. The year we cured cancer. The year we cured the common cold. And the year the dead started to walk. The year of the Rising.
The year was 2039. The world didn't end when the zombies came, it just got worse. Georgia and Shaun Mason set out on the biggest story of their generation. The uncovered the biggest conspiracy since the Rising and realized that to tell the truth, sacrifices have to be made.
Now, the year is 2041, and the investigation that began with the election of President Ryman is much bigger than anyone had assumed. With too much left to do and not much time left to do it in, the surviving staff of After the End Times must face mad scientists, zombie bears, rogue government agencies–and if there's one thing they know is true in post-zombie America, it's this: Things can always get worse.
BLACKOUT is the conclusion to the epic trilogy that began in the Hugo-nominated FEED and the sequel, DEADLINE.
Blue-Blooded Vamp
Sabina Kane 5
Jaye Wells
June-12 | 978-0-316-17845-7 | MASS MARKET
The epic conclusion to the amazing Sabina Kane urban fantasy series.
Sabina Kane is on the hunt. Her prey: Cain, the father of the vampire race and the one who murdered her family and her friends. Unfortunately, Cain is hunting Sabina, too. The one man who holds the key to defeating Cain is, of course, Abel. A mage with secrets to spare and, hopefully, the power to match it. Unfortunately, for Sabina, he's in Rome and may not want to be found. Sabina sets out for Italy with her friends, Giguhl and Adam Lazarus, to track down the only man who can get her the revenge she hungers for. But will he help her or oppose her? And just who is Abel, really? Worst of all, when Sabina figures out the goddess Lilith has a plan for her-she realizes this trip is getting deadlier by the minute. As they say: when in Rome–SURVIVE.
The Spirit War
The Legend of Eli Monpress 4
Rachel Aaron
June-12 | 978-0-316-19838-7 | TRADE PAPERBACK
Eli Monpress is vain. He's cocky. And he's a thief.
But he's a thief who has just seen his bounty topped and he's not happy about it. The bounty topper, as it turns out, is his best friend, bodyguard, and master swordsman, Josef. Who has been keeping secrets from Eli. Apparently, he's the only prince of a rather feisty country and his mother (a formidable queen who's every bit as driven and stubborn as he is) wants him to come home and do his duty, which means throwing over personal ambitions like proving he's the greatest swordsman who ever lived. Family drama aside, Eli and Josef have their hands full. The Spirit Court has been usurped by the Council of Thrones and someone calling herself the Immortal Empress is staging a massive invasion. But it's not just politics — the Immortal Empress has a specific target in mind: Eli Monpress, the greatest thief in the world.
The Shadowed Sun
Dreamblood 2
N.K. Jemisin
June-12 | 978-0-316-18729-9 | TRADE PAPERBACK
Gujaareh, the city of dreams, suffers under the imperial rule of the Kisuati Protectorate. A city where the only law was peace now knows violence and oppression. And nightmares: a mysterious and deadly plague haunts the citizens of Gujaareh, dooming the infected to die screaming in their sleep. Trapped between dark dreams and cruel overlords, the people yearn to rise up — but Gujaareh has known peace for too long. Someone must show them the way. Hope lies with two outcasts: the first woman ever allowed to join the dream goddess' priesthood, and an exiled prince who longs to reclaim his birthright. Together, they must resist the Kisuati occupation and uncover the source of the killing dreams… before Gujaareh is lost forever.
Tempest's Fury
Jane True 5
Nicole Peeler
June-12 | 978-0-316-12811-7 | MASS MARKET
Jane's not happy. She's been packed off to England to fight in a war when she'd much rather be snogging Anyan. Unfortunately, Jane's enemies have been busy stirring up some major trouble — the kind that attracts a lot of attention. In other words, they're not making it easy for Jane to get any alone time with the barghest, or to indulge in her penchant for stinky cheese.
Praying she can pull of a Joan of Arc without the whole martyrdom thing, Jane must lead Alfar and halflings alike in a desperate battle to combat an ancient evil. Catapulted into the role of Most Unlikely Hero Ever, Jane also has to fight her own insecurities as well as the doubts of those who don't think she can live up to her new role as Champion.
Along the way, Jane learns that some heroes are born. Some are made. And some are bribed with promises of food and sex.
The Key to Creation
Terra Incognita 3
Kevin J. Anderson
June-12 | 978-0-316-00424-4 | MASS MARKET
After long voyages, encountering hurricanes and sea monsters, Criston Vora and Saan race to Terravitae, the legendary promised land. Saan's quest is to find the Key to Creation, a weapon that may defeat Uraba's enemies, and Criston wants vengeance against the monstrous Leviathan that ruined his life long ago.
Back home, two opposing continents and religions clash for the remnants of a sacred city, unleashing their hatred in a war that could end both civilizations. Queen Anjine and Soldan-Shah Omra are driven by mutual hatred, heaping atrocity upon atrocity in an escalating conflict that only their gods can end.
Meanwhile, the secretive Saedrans manipulating both sides, come ever closer to their ultimate goal: to complete the Map of All Things and bring about the return of God.
Caliban's War
The Expanse 2
James S.A. Corey
June-12 | 978-0-316-12906-0 | TRADE PAPERBACK
We are not alone.
On Ganymede, breadbasket of the outer planets, a Martian marine watches as her platoon is slaughtered by a monstrous supersoldier. On Earth, a high-level politician struggles to prevent interplanetary war from reigniting. And on Venus, an alien protomolecule has overrun the planet, wreaking massive, mysterious changes and threatening to spread out into the solar system.
In the vast wilderness of space, James Holden and the crew of the Rocinante have been keeping the peace for the Outer Planets Alliance. When they agree to help a scientist search war-torn Ganymede for a missing child, the future of humanity rests on whether a single ship can prevent an alien invasion that may have already begun…
Caliban's War is a breakneck science fiction adventure following the critically acclaimed Leviathan Wakes
God Save the Queen
The Immortal Empire 1
Kate Locke
July-12 | 978-0-316-19612-3 | HARDCOVER BOOK
Queen Victoria rules with an immortal fist. The undead matriarch of a Britain where the Aristocracy is made up of werewolves and vampires, where goblins live underground and mothers know better than to let their children out after dark. A world where being nobility means being infected with the Plague (side-effects include undeath), Hysteria is the popular affliction of the day, and leeches are considered a delicacy. And a world where technology lives side by side with magic. The year is 2012 and Pax Britannia still reigns.
Xandra Vardan is a member of the elite Royal Guard, and it is her duty to protect the Aristocracy. But when her sister goes missing, Xandra will set out on a path that undermines everything she believed in and uncover a conspiracy that threatens to topple the empire. And she is the key-the prize in a very dangerous struggle.
House of Shadows
Rachel Neumeier
July-12 | 978-0-316-07277-9 | TRADE PAPERBACK
Orphaned, two sisters are left to find their own fortunes. Sweet and proper, Karah's future seems secure at a glamorous Flower House. She could be pampered for the rest of her life… if she agrees to play their game. Nemienne, neither sweet nor proper, has fewer choices. Left with no alternative, she accepts a mysterious mage's offer of an apprenticeship. Agreeing means a home and survival, but can Nemienne trust the mage? With the arrival of a foreign bard into the quiet city, dangerous secrets are unearthed, and both sisters find themselves at the center of a plot that threatens not only to upset their newly found lives, but also to destroy their kingdom.
Sharps
K.J. Parker
July-12 | 978-0-316-17775-7 | TRADE PAPERBACK
For the first time in nearly forty years, an uneasy truce has been called between two neighboring kingdoms. The war has been long and brutal, fought over the usual things: resources, land, money…
Now, there is a chance for peace. Diplomatic talks have begun and with them, the games of skill and chance. Two teams of fencers represent their nations at this pivotal moment.When the future of the world lies balanced on the point of a rapier, one misstep could mean ruin for all.
Best Served Cold
Joe Abercrombie
July-12 | 978-0-316-19835-6 | TRADE PAPERBACK
Springtime in Styria. And that means war.
There have been nineteen years of blood. The ruthless Grand Duke Orso is locked in a vicious struggle with the squabbling League of Eight, and between them they have bled the land white. While armies march, heads roll and cities burn, and behind the scenes bankers, priests and older, darker powers play a deadly game to choose who will be king.
War may be hell but for Monza Murcatto, the Snake of Talins, the most feared and famous mercenary in Duke Orso's employ, it's a damn good way of making money too. Her victories have made her popular — a shade too popular for her employer's taste. Betrayed, thrown down a mountain and left for dead, Murcatto's reward is a broken body and a burning hunger for vengeance. Whatever the cost, seven men must die.
Her allies include Styria's least reliable drunkard, Styria's most treacherous poisoner, a mass-murderer obsessed with numbers and a Northman who just wants to do the right thing. Her enemies number the better half of the nation. And that's all before the most dangerous man in the world is dispatched to hunt her down and finish the job Duke Orso started…
Springtime in Styria. And that means revenge.
Chimera
The Subterrene War 3
T.C. McCarthy
July-12 | 978-0-316-12817-9 | MASS MARKET
Escaped Germline soldiers need to be cleaned up, and Stan Resnick is the best man for the job. A job that takes him to every dark spot and every rat hole he can find.
Operatives from China and Unified Korea are gathering escaped or stolen Russian and American genetics, and there are reports of new biological nightmares: half-human things, bred to live their entire lives encased in powered armor suits.
Stan fights to keep himself alive and out of prison while he attempts to capture a genetic, one who will be able to tell them everything they need to know about this new threat, the one called 'Project Sunshine.'Chimera is the third and final volume of The Subterrene War Trilogy which tells the story of a single war from the perspective of three different combatants. The first two volumes GERMLINE and EXOGENE are available now.
The Fate of the Dwarves
The Dwarves 4
Markus Heitz
August-12 | 978-0-316-10262-9 | TRADE PAPERBACK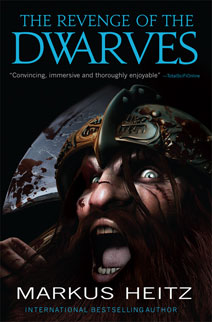 There has been no word from the courageous warrior Tungdil since the bitter struggle that took place at the Black Abyss. Dragons, magicians, and the cruel älfar have advanced far into the kingdom Girdlegard, ruthlessly seizing vast areas of land. It seems that the dwarves are facing their next battle with very little hope of survival.But then the inexplicable happens; a dwarf warrior dressed in black armor returns from the abyss — with a formidable army in tow. This warrior calls himself Tungdil, and for his most loyal friend Ireheart and his allies, this means a new hope. But soon doubts begin arise . . . Could this really be Tungdil the dwarf, or is this warrior following his own dark agenda? It is a question of the future of Girdlegard — and the future of all the dwarves.
In the final installment of this spectacular fantasy epic, the greatest of the dwarves' adventures begins . . .
The Iron Wyrm Affair
Bannon and Clare 1
Lilith Saintcrow
August-12 | 978-0-316-20126-1 | TRADE PAPERBACK
Archibald Clare is a detective of truly uncanny abilities–a mentath, capable of feats of deduction and logic that border on the supernatural. He is also abruptly, uniquely, the only unregistered mentath left alive in Londoninium. Someone has murdered the others and, if not for the timely intervention of the Prime sorceress Emma Bannon, there would have been no one left to stop… whatever is coming.
Mentaths and sorcerers are dying-or worse, being seduced into betraying Queen and Country. Bannon and Clare must uncover treachery, conspiracy, and sorcery of the blackest hue. And in a Britannia where magic has turned the Industrial Revolution on its head, time is short.
The game is afoot…
The Traitor Queen
The Traitor Spy Trilogy 3
Trudi Canavan
August-12 | 978-0-316-03789-1 | HARDCOVER BOOK
Discover the magic of Trudi Canavan with her brand new novel in the Traitor Spy Trilogy…

Events are building to a climax in Sachaka as Lorkin returns from his exile with the Traitor rebels. The Traitor Queen has given Lorkin the huge task of brokering an alliance between his people and the Traitors. Lorkin has also had to become a feared black magician in order to harness the power of an entirely new kind of gemstone magic. This knowledge could transform the Guild of Magicians – or make Lorkin an outcast forever.
The Traitor Spy trilogy, which began with The Ambassador's Mission and The Rogue, is the new series set in the world of the international bestselling Black Magician trilogy.
The Kingmaker, Kingbreaker Series
Karen Miller
August-12 | 978-0-316-20127-8 | TRADE PAPERBACK
Being a fisherman like his father isn't a bad life, but it's not the one that Asher wants. Despite his humble roots, Asher has grand dreams. And they call him to Dorana, home of princes, beggars, and the warrior mages who have protected the kingdom for generations.
Little does Asher know, however, that his arrival in the city is being closely watched by members of the Circle, people dedicated to preserving an ancient magic.
Asher might have come to the city to make his fortune, but he will find his destiny.
Cold Fire
The Spiritwalker Trilogy 2
Kate Elliott
August-12 | 978-0-316-08098-9 | MASS MARKET
Cat Barahal and her beloved cousin Bee think they have reached a safe place to shelter. But the Cold Mages who are conspiring to take them prisoner are closing in. The warlord who hopes to conquer all Europa is convinced their destiny is to aid him, whether they want to or not. And the man Cat was forced to marry is back, as vainly arrogant and annoyingly handsome as ever. Worst of all, as Hallows' Night approaches, powers hidden deep within the spirit world are rising. Cat must seek allies against these threats and figure out who to trust, for if she makes the wrong choices, she'll lose everything. Only one thing is certain. When Hallows' Night comes the Wild Hunt will ride–and it feeds on mortal blood.