- The Orbit Team - November 14th, 2008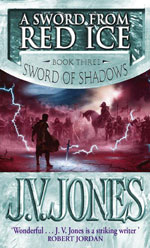 Fantasy author J. V. Jones is running a photo-competition via her website and journal to mark the paperback release of A Sword From Red Ice [UK], the latest instalment in her Sword of Shadows saga.
Here's a bit of the old explanatory from J. V.:
Here it is, the chance to win all sorts of goodies: a complete set of signed J.V. Jones books (seven and counting), artwork, cover flats, collectible (and extremely rare) galley copies, etc. You get the idea: extremely cool prizes will be given.

All you have to do is take a photo of yourself and A Sword From Red Ice. Mug it up for the camera, dress up, dress down, use experimental media, commandeer family and friends, get outside, stay inside, reenact a scene from the book, eat a sandwich, go on location to the bookstore or the woods. Whatever you do: Take a photo. Then send that photo [to J. V. - email address given in her Journal]. We'll post it on the website, everyone can have their say, and may the best photo win.
Simple as that, folks, but please do visit JVJones.com (where a few early entries have been posted already) for full competition rules and the email address to send your photos to [N.B. Don't send your photos to us here at Orbit, in case we don't get a chance to send them on to J. V. before the deadline!]