- Devi Pillai - June 9th, 2015
We are excited to introduce you to an exciting novel from our sibling imprint Redhook, THE UNFORTUNATE DECISIONS OF DAHLIA MOSS, a novel about geeks, capers and a MMORPG or two:)
We loved it and wanted to share the cover reveal here — and we believe that Orbiteers will fall in love with Dahlia. Because this is a book for everyone who has a little bit of geek in them (who doesn't have a little bit of geek in them??).
A bit about THE UNFORTUNATE DECISIONS OF DAHLIA MOSS:
Meet Dahlia Moss, the reigning queen of unfortunate decision-making in the St. Louis area. She is unemployed, broke, and on her last bowl of ramen. But that's all about to change.  Before Dahlia can make her life any messier on her own she's offered a job. A job that she's woefully under-qualified for. A job that will lead her to a murder, an MMORPG, and possibly a fella (or two?).
Praise for the novel: 
"Dahlia's story is a zany, hilarious, laugh fest that made my inner geek girl sit up and search for a caper to solve!  Take the clumsy sweetness of Bridget Jones, combine with the intriguing geekiness of Felicity Smoak, and you have Dahlia Moss in this delightful romp!"

—Rebecca Zanetti, New York Times Bestselling author
"A hilarious read sure to delight mystery lovers and gamers alike. With unforgettable characters and a stand-out heroine, DAHLIA kept me guessing until the very end. A laugh-out-loud gem of a book."

—N.K. Traver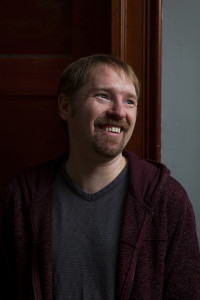 Max Wirestone is a librarian in a small New Hampshire town. He lives in New England with his editor-husband and his non-editor son.
[Cover design by Lauren Panepinto.]