Transition
Sep-09 | 0-316-07198-6 | 978-0-316-07198-7 | HARDCOVER BOOK | US:$25.99 | CA:$31.99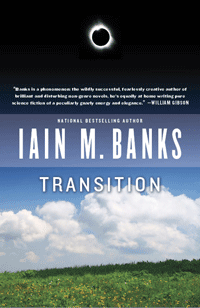 "A dazzling feat of the imagination, the new novel from Iain M. Banks, set in our world, confirms his place as a master storyteller and writer of extraordinary vision.
The Philosopher is a torturer, and proud of it. AC is a dealer who became a trader who became a hedge-fund manager. Madame d'Ortolan seems to control nearly everything, while Mrs. Mulverhill the younger hopes to frustrate her. Mr. Oh is a reluctant assassin, amongst many other things. The person in the hospital bed is not entirely sure who they might be, or where, or even when.
What all of these characters have in common is the Concern: an organization committed to protecting the world from outside threats. The world itself, however, is far more complex than we imagine; and the threats far more subtle."
The Drowning City
Sep-09 | 0-316-06904-3 | 978-0-316-06904-5 | MASS MARKET | US:$7.99 | CA:$9.99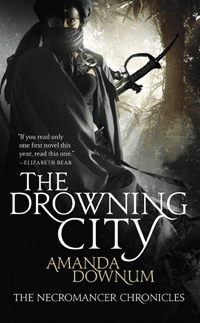 Symir — the Drowning City. home to exiles and expatriates, pirates and smugglers. And violent revolutionaries who will stop at nothing to overthrow the corrupt Imperial government.
For Isyllt Iskaldur, necromancer and spy, the brewing revolution is a chance to prove herself to her crown. All she has to do is find and finance the revolutionaries, and help topple the palaces of Symir. But she is torn between her new friends and her duties, and the longer she stays in this monsoon-drenched city, the more intrigue she uncovers — even the dead are plotting. As the waters rise and the dams crack, Isyllt must choose between her mission and the city she came to save.
Biting the Bullet
Sep-09 | 0-316-04356-7 | 978-0-316-04356-4 | MASS MARKET | US:$7.99 | CA:$9.99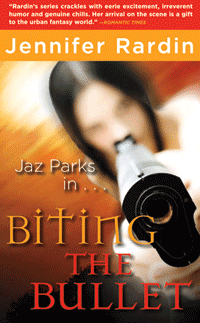 I'm Lucille Robinson (aka Jaz Parks). This is a mission unlike anything my vampire boss, Vayl, and I have ever been on. It's not our usual take-them-out-and-run; it's an undercover mission that needs the whole gang: a psychic, an interpreter, and a weapons specialist.
We've never gone in which such heavy artillery before, but the more the merrier, right? Um…nope. At least not since Vayl and I learned part of our job is to ferret out a mole concealed in our unit.
To add to our problems, we're being harried by a pack of reavers bent on revenge, and targeted by a Seer who wants to share Vayl's power—at any cost. This is going to be a blast.
Soulless
Oct-09 | 0-316-05663-4 | 978-0-316-05663-2 | MASS MARKET | US:$7.99 | CA:$9.99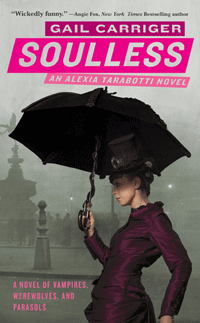 Alexia Tarabotti is laboring under a great many social tribulations. First, she has no soul. Second, she's a spinster whose father is both Italian and dead. Third, she was rudely attacked by a vampire, breaking all standards of social etiquette. Where to go from there? From bad to worse apparently, for Alexia accidentally kills the vampire — and then the appalling Lord Maccon (loud, messy, gorgeous, and werewolf) is sent by Queen Victoria to investigate. With unexpected vampires appearing and expected vampires disappearing, everyone seems to believe Alexia responsible. Can she figure out what is actually happening to London's high society? Will her soulless ability to negate supernatural powers prove useful or just plain embarrassing? Finally, who is the real enemy, and do they have treacle tart?SOULLESS is a comedy of manners set in Victorian London: full of werewolves, vampires, dirigibles, and tea-drinking.
Red Claw
Oct-09 | 0-316-01893-7 | 978-0-316-01893-7 | TRADE PAPERBACK | US:$12.99 | CA:$15.99
"Professor Richard Helms is the leader of a merry band of scientists and soldiers sent to catalog and explore New Amazon, a planet seemingly determined to attack them at every turn. When they are done cataloguing every detail of this vast, strange, unfamiliar ecosystem, they will burn it to the ground and make it fit for human habitation.
But when the team falls under attack, Helms and his followers are forced to flee into the depths of the New Amazon jungle. Old enemies and petty rivalries surface as they struggle to survive. They must fight for survival– against the planet they are exploring, the robots of the empire, and most of all, against each other.
Palmer burns a new path for science fiction in this gripping, dark tale of man's place in the universe."
The Company
Sep-09 | 0-316-03852-0 | 978-0-316-03852-2 | TRADE PAPERBACK | US:$14.99 | CA:$17.99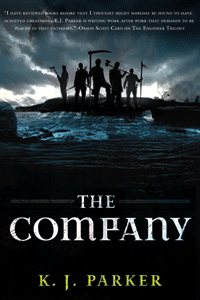 "Hoping for a better life, five war veterans colonize an abandoned island. They take with them everything they could possibly need – food, clothes, tools, weapons, even wives.
But an unanticipated discovery shatters their dream and replaces it with a very different one. The colonists feel sure that their friendship will keep them together. Only then do they begin to realize that they've brought with them rather more than they bargained for.
For one of them, it seems, has been hiding a terrible secret from the rest of the company. And when the truth begins to emerge, it soon becomes clear that the war is far from over.
With masterful storytelling, irresistible wit, and extraordinary insight into human nature, K.J. Parker is widely acknowledged as one of the most original and exciting fantasy writers of modern times. THE COMPANY, K.J. Parker's first stand-alone novel, is a tour de force from an author who is changing the face of the fantasy genre."
Orcs: Army of Shadows
Oct-09 | 0-316-03368-5 | 978-0-316-03368-8 | TRADE PAPERBACK | US:$14.99 |
"A sojourn in their idyllic homeworld has left Stryke and the Wolverines lacking purpose. So when an opportunity for bloodletting arises, Stryke seizes it. Utilizing mysterious artifacts, the Wolverines are transported to Acurial, a world where the indigenous orc population is cruelly subjugated by human invaders.
Upon their arrival, Stryke's band joins with Acurial's emerging resistance movement. As the revolution gathers pace, the Wolverines are forced to embark on an odyssey through outlandish parallel dimensions. A chase that would see Stryke and his comrades pursued by both their most ruthless enemy and a mysterious troop hell-bent on their destruction."
Bite Marks
Jennifer Rardin | www.jenniferrardin.com
Oct-09 | 0-316-04382-6 | 978-0-316-04382-3 | TRADE PAPERBACK | US:$13.99 | CA:$16.99
"Jaz is possessed. After biting the neck of a domyter during a forced visit to his territory, she now has unwelcome voices in her head. While fighting for supremacy in her own mind, she finds herself confronted with a near-impossible task: perform perfectly on her next mission or face the unemployment line.
This goal wouldn't be unreasonable, except that her newest target, the leader of a security software firm, plans on transporting a boatload of gnome larvae into NASA's deep space communication complex. Why gnomes? Let's just say that their god is a little peeved with humanity and plans on the usual: total annihilation.
Joining Jaz and Vayl are their old buddies Cole, Bergman, Cassandra and Jack the malamute, each of whom has his or her own agenda. Between Cassandra's curse, Jaz's literally mental personal demons, and a host of angry gnomes, this mission is definitely going to be more complicated than any that have come before."
Tempest Rising
Nov-09 | 0-316-05658-8 | 978-0-316-05658-8 | MASS MARKET | US:$7.99 | CA:$9.99
"In the tiny village of Rockabill, Maine, Jane True-26-year-old bookstore clerk and secret night swimmer-has no idea that her absent mother's legacy is entry into a world populated by the origins of human myths and legends. It is a world where nothing can be taken for granted: vampires are not quite what we think; dogs sometimes surprise us; and whatever you do, never-ever-rub the genie's lamp.
For Jane, everything kicks off when she comes across a murder victim during her nightly clandestine swim in the freezing winter ocean. This grisly discovery leads to the revelation of why she has such freakish abilities in the water: her mother was a Selkie and Jane is only half human. With this knowledge, Jane soon finds herself mingling with supernatural creatures alternately terrifying, beautiful, and deadly-all adjectives that quite handily describe her new friend Ryu.
When Ryu is sent to Rockabill to investigate the murder, he and Jane fall hard for each other even as they plummet into a world of intrigue threatening to engulf both supernatural and human societies. For someone is killing half-humans like Jane. The question is, are the murders the work of one rogue individual or part of a greater plot to purge the world of Halflings?"
The Electric Church
Nov-09 | 0-316-05393-7 | 978-0-316-05393-8 | MASS MARKET | US:$7.99 | CA:$9.99
Avery Cates is a very bad man. Some might call him a criminal. He might even be a killer – for the Right Price. But right now, Avery Cates is scared. He's up against the Monks: cyborgs with human brains, enhanced robotic bodies, and a small arsenal of advanced weaponry. Their mission is to convert anyone and everyone to the Electric Church. But there is just one snag: conversion means death.
Full Circle
Nov-09 | 0-316-03562-9 | 978-0-316-03562-0 | TRADE PAPERBACK | US:$12.99 | CA:$15.99
"An unstoppable ghost army is descending on the Eleven Domains. The only hope for their destruction lies with Bramble and Ash, who will try to raise the spirit of the one man who might lay the ravaging army to rest.
The warlord, Thegan, has his own solution, and it may mean the death of every living Traveller – unless his wife and his most faithful officer forget all their loyalties and betray him.
The final confrontation between the dead and the living, the warlords and the Travellers, will change the face of the Domains forever."
The Sad Tale of the Brothers Grossbart
Jesse Bullington
Nov-09 | 0-316-04934-4 | 978-0-316-04934-4 | TRADE PAPERBACK | US:$14.99 | CA:$17.99
"In the plague-wracked and devil-haunted darkness of Medieval Europe, an elite few enjoy opulent lives while the majority ekes out a miserable existence in abject poverty. Hungry creatures stalk the deep woods and desolate mountains, and both sea and sky teem with unspeakable horrors. For those ill-fated masses not born into wealth, life is but a vicious trial to be endured before the end of days.
Hegel and Manfried Grossbart, however, couldn't care less. Being of low birth means little, after all, when the riches of the mighty wait just inside the next crypt.
Embarking on a naïve quest for fortune, the strangely pious, graverobbing twins attempt to keep their faith no matter the consequences. Theirs is a world both familiar and distant; a world of living saints and livelier demons, of beguiling beauties and cruel tragedies, of monsters and madmen. The Brothers Grossbart are about to discover that all legends have their truths, and worse fates than death await those who would take the red road of villainy."
The Digital Plague
Dec-09 | 0-316-05394-5 | 978-0-316-05394-5 | MASS MARKET | US:$7.99 | CA:$9.99
Avery Cates is a very rich man. He's probably the richest criminal in New York City. But right now, Avery Cates is pissed. Because everyone around him has just started to die – in a particularly gruesome way. With every moment bringing the human race closer to extinction, Cates finds himself in the role of both executioner and savior of the entire world.
Flesh Circus
Dec-09 | 0-316-03545-9 | 978-0-316-03545-3 | MASS MARKET | US:$7.99 | CA:$9.99
"The Cirque de Charnu has come. They will clean out the demons and the suicides, and move on. As long as they stay within the rules, Jill Kismet can't deny them entry. But she can watch–and if they step out of line, she'll send them packing.
When Cirque performers start dying grotesquely , Kismet has to find out why, or the fragile truce won't hold and her entire city will become a carnival of horror. She also has to play the resident hellbreed power against the Cirque to keep them in line, and find out why ordinary people are needing exorcisms. And then there's the murdered voodoo practitioners, and the zombies.
An ancient vengeance is about to be enacted. The Cirque is about to explode. And Jill Kismet is about to find out some games are played for keeps…"
Beyond the Wall of Time
Dec-09 | 0-316-00717-X | 978-0-316-00717-7 | MASS MARKET | US:$7.99 | CA:$9.99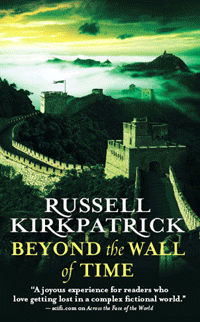 The wall of time has fallen and the Gods are free to ravage the world. The few that know of their escape into mortal lands are under the control of the malevolent Husk. Stella, a queen in hiding, makes a deal with the Undying Man even though she knows his agenda comes first. Noetos seeks revenge for the deaths of his loved ones, not yet realizing the enemy is closer than even he can imagine. And the unconventional cosmographer, Lenares, is the only one with the power to prevent the Gods from destroying the world – if only the others would believe her.
The queen, the fisherman, and the cosmographer must travel to Andratan to confront Husk. But whether they can break free of his hold on them, and defeat the Gods, is another matter entirely.
Black Ships
Dec-09 | 0-316-06799-7 | 978-0-316-06799-7 | MASS MARKET | US:$7.99 | CA:$9.99
The world is ending. One by one the mighty cities are falling, to earthquakes, to flood, to raiders on both land and sea. In a time of war and doubt, Gull is an oracle. Daughter of a slave taken from fallen Troy, chosen at the age of seven to be the voice of the Lady of the Dead, it is her destiny to counsel kings. When nine black ships appear, captained by an exiled Trojan prince, Gull must decide between the life she has been destined for and the most perilous adventure — to join the remnant of her mother's people in their desperate flight. From the doomed bastions of the City of Pirates to the temples of Byblos, from the intrigues of the Egyptian court to the haunted caves beneath Mount Vesuvius, only Gull can guide Prince Aeneas on his quest, and only she can dare the gates of the Underworld itself to lead him to his destiny. In the last shadowed days of the Age of Bronze, one woman dreams of the world beginning anew. This is her story.
Fallen Dragon
Dec-09 | 0-316-02183-0 | 978-0-316-02183-8 | TRADE PAPERBACK | US:$14.99 | CA:$17.99
"Born in a colony world in 2310, Lawrence Newton hankered after the golden era of starships exploring the galaxy. But the age of human starflight was drawing to a close, so this hot-headed teenager ran away from home in search of adventure.
Twenty years later, he's the sergeant of a washed-out platoon taking part in the bungled invasion of another world. The giant corporations euphemistically call such campaigns 'asset realization', but in practice it's simple piracy. While he's on the ground, being shot at and firebombed by local resistance forces, Lawrence hears stories about the Temple of the Fallen Dragon – and a sect devoted to the worship of a mythical creature that fell to the ground millennia ago.
More importantly, its priests are said to guard a hoard of treasure large enough to buy lifelong happiness – which information prompts him to mount a private-enterprise operation of his own. For Lawrence, such wealth would allow him one last chance to put right the mistakes of his past – and finally go home. But, unfortunately, treasure isn't always measured in monetary terms. And just because something is called mythical doesn't mean it isn't real…"
The Mage in Black
Jan-10 | 0-316-03780-X | 978-0-316-03780-8 | MASS MARKET | US:$7.99 | CA:$9.99
"When Sabina Kane arrives in New York, she finds her long-lost sister unbearable, magic training difficult, and mage culture baffling.
Plus, everyone keeps calling her ""The Chosen."" Sabina doesn't recall choosing any of this, and decides to track down the prophecy's source. Her search uncovers secrets that some would rather stay hidden."
This Is Not a Game
Jan-10 | 0-316-00316-6 | 978-0-316-00316-2 | MASS MARKET | US:$7.99 | CA:$9.99
"Once upon a time, there were four of them. And though each was good at a number of things, all of them were very good at games…
Dagmar is a game designer trapped in Jakarta in the middle of a revolution. The city is tearing itself apart around her and she needs to get out.
Her boss Charlie has his own problems — 4.3 billion of them, to be precise, hidden in an off-shore account.
Austin is the businessman — the VC. He's the one with the plan and the one to keep the geeks in line.
BJ was there from the start, but while Charlie's star rose, BJ sank into the depths of customer service. He pads his hours at the call-center slaying on-line orcs, stealing your loot, and selling it on the internet.
But when one of them is gunned down in a parking lot, the survivors become players in a very different kind of game. Caught between the dangerous worlds of the Russian Mafia and international finance, Dagmar must draw on all her resources — not least millions of online gamers– to track down the killer. In this near-future thriller, Walter Jon Williams weaves a pulse-pounding tale of intrigue, murder, and games where you don't get an extra life."
Hand of Isis
Jan-10 | 0-316-06801-2 | 978-0-316-06801-7 | MASS MARKET | US:$7.99 | CA:$9.99
Following her acclaimed debut, Jo Graham returns to the ancient world with a novel that will captivate lovers of fantasy, history and romance. Set in Ancient Egypt, Hand of Isis is the story of Charmian, a handmaiden, and her two sisters. It is a novel of lovers who transcend death, of gods who meddle in mortal affairs, and of women who guide empires.
Praise for Black Ships'Graham re-creates a vivid picture of the ancient world, a mysterious place in which gods and goddesses speak to their chosen.' — Library Journal (starred review) 'A first-class, very readable novel.' — Booklist (starred review)'A refreshingly different approach to a legend we only thought we knew.' — Locus'Graham's thorough, detailed tale of ancient Greece is one that fans of that period are bound to love.' — Romantic Times 'A dazzling debut novel reimagines the Aeneid and restores life to a fantasy land that actually was.' — scifi.com'A bittersweet saga with enough action, romance, and intrigue to entertain and enthrall.' — Romance Reviews Today'Graham…has packed the novel with exquisite detail, bringing to life a time long gone.' — The St. Petersburg Times'Inspired and relentlessly entertaining…an auspicious debut.' — Realms of Fantasy
Mr. Shivers
Jan-10 | 0-316-05468-2 | 978-0-316-05468-3 | HARDCOVER BOOK | US:$19.99 | CA:$24.99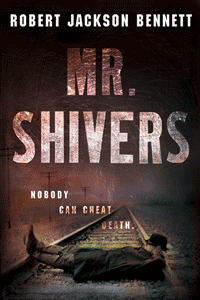 "It is the time of the Great Depression. The dustbowl has turned the western skies red and thousands leave their homes seeking a better life.
Marcus Connelly seeks not a new life, but a death – a death for the mysterious scarred man who murdered his daughter. And soon he learns that he is not alone. Countless others have lost someone to the scarred man. They band together to track him, but as they get closer, Connelly begins to suspect that the man they are hunting is more than human.
As the pursuit becomes increasingly desperate, Connelly must decide just how much he is willing to sacrifice to get his revenge."
Monster
Feb-10 | 0-316-04991-3 | 978-0-316-04991-7 | MASS MARKET | US:$7.99 | CA:$9.99
"Meet Monster. Meet Judy. Two humans who don't like each other much, but together must fight dragons, fire-breathing felines, trolls, Inuit walrus dogs, and a crazy cat lady – for the future of the universe.
Monster runs a pest control agency. He's overworked and has domestic troubles – like having the girlfriend from hell.
Judy works the night shift at the local Food Plus Mart. Not the most glamorous life, but Judy is happy. No one bothers her and if she has to spell things out for the night-manager every now and again, so be it.
But when Judy finds a Yeti in the freezer aisle eating all the Rocky Road, her life collides with Monster's in a rather alarming fashion. Because Monster doesn't catch raccoons; he catches the things that go bump in the night. Things like ogres, trolls, and dragons.
Oh, and his girlfriend from Hell? She actually is from Hell."
Fall of Thanes
Feb-10 | 0-316-06808-X | 978-0-316-06808-6 | MASS MARKET | US:$7.99 | CA:$9.99
"The True Bloods are in disarray, their alliance crumbling and their armies humbled by the forces of the Black Road. Aeglyss, falling ever deeper into madness, casts a shadow across all. At the court of the High Thane, Anyara faces a savage struggle for survival against the na'kyrim's possessed agent: Mordyn Jerain, the Shadowhand.
In the Glas Valley, Kanin, the embittered Horin-Gyre Thane, plots a desperate rising against the halfbreed. But ultimately it will be Orisian, Thane of a Blood that no longer exists, who must stand face to face with a darkly transcendent Aeglyss and make the sacrifice – of himself and others – required to end the threat he represents. "
A Madness of Angels
Feb-10 | 0-316-06859-4 | 978-0-316-06859-8 | MASS MARKET | US:$7.99 | CA:$9.99
"Two years after his untimely death, Matthew Swift finds himself breathing once again, lying in bed in his London home.
Except that it's no longer his bed, or his home. And the last time this sorcerer was seen alive, an unknown assailant had gouged a hole so deep in his chest that his death was irrefutable…despite his body never being found.
He doesn't have long to mull over his resurrection though, or the changes that have been wrought upon him. His only concern now is vengeance. Vengeance upon his monstrous killer, "
The Folding Knife
Feb-10 | 0-316-03850-4 | 978-0-316-03850-8 | HARDCOVER BOOK | US:$24.99 | CA:$29.99
"Basso the Magnificent. Basso the Great. Basso the Wise. Basso the Murderer.
The First Citizen of the Vesani Republic is an extraordinary man. He is ruthless, cunning, and above all, lucky. He brings wealth and power and prestige to his people. But with power comes unwanted attention, and Basso must defend his nation and himself from threats foreign and domestic. In a lifetime of crucial decisions, he's only ever made one mistake.
One mistake, though, can be enough."
The Hundred Thousand Kingdoms
Feb-10 | 0-316-04391-5 | 978-0-316-04391-5 | TRADE PAPERBACK | US:$13.99 | CA:$16.99
"Yeine Darr is heir to the throne of the Hundred Thousand Kingdoms. She is also an outcast. Until, that is, her mother dies under mysterious circumstances.
Summoned by her grandfather to the majestic city of Sky, Yeine finds herself thrust into a vicious power struggle for the throne. As she fights for her life, she comes ever closer to discovering the truth about her mother's death and her family's bloody history – as well as the unsettling truths within herself.
With the fate of the world hanging in the balance, Yeine will learn how perilous it can be when love and hate are bound inseparably together, for both mortals and gods alike."
Wizard Squared
Mar-10 | 0-316-03543-2 | 978-0-316-03543-9 | MASS MARKET | US:$7.99 | CA:$9.99
When the members of Witches Incorporated receive a visitor from an alternate reality, they are shocked to discover that Gerald Dunwoody is responsible for the chaos in this parallel world. This evil Gerald has turned into a raving tyrant whose use of black magic has made him unstoppable. Unfortunately for them, this problem is about to cross over to their world very quickly because evil Gerald is searching for new worlds to conquer. And the only person who can stop him is good Gerald…who has just disappeared on assignment overseas. Once they realize that Gerald has been kidnapped by his alternate self, Melissande and the rest of Witches Inc. cross through to the alternate reality to save him. But it appears that they're too late, because good Gerald has succumbed…and now there are two evil Geralds to contend with.
The Last Stormlord
Mar-10 | 0-316-06915-9 | 978-0-316-06915-1 | MASS MARKET | US:$7.99 | CA:$9.99
Shale is the lowest of the low-an outcast from a poor village in the heart of the desert. In the desert water is life, and currency, and Shale has none. But he has a secret. It's the one thing that keeps him alive and may save all the cities of the Quartern in the days to come. If it doesn't get him killed first…Terelle is a slave fleeing a life as a courtesan. She finds shelter in the home of an elderly painter but as she learns the strange and powerful secrets of his art she fears she may have traded a life of servitude for something far more perilous…The Stormlord is dying in his tower and there is no one, by accident or design, to take his place. He brings the rain from the distant seas to his people. Without a Stormlord, the cities of the Quartern will wither and die. Their civilization is at the brink of disaster. If Shale and Terelle can find a way to save themselves, they may just save them all. Water is life and the wells are running dry…
The Midnight Mayor
Mar-10 | 0-316-04123-8 | 978-0-316-04123-2 | HARDCOVER BOOK | US:$19.99 | CA:$24.99
"It's said that if the ravens ever leave the Tower of London, then the Tower will crumble and the kingdom will fall. As it happens, that's not so far from the truth…
London faces its gravest threat since the Great Fire, and resurrected sorcerer Matthew Swift is alarmed to find himself thrust into the position of savior. One by one, the magical wards that guard the city are falling: the London Wall defiled with cryptic graffiti, the ravens found dead at the Tower, the London Stone destroyed.
Scattered throughout London, this multitude of magical defenses – a mix of international tourist attractions and forgotten urban legends – add up to a formidable magical shield. Protection for the City of London against . . . well, that's the question, isn't it?
If Matthew Swift is lucky, he might just live long enough to find the answer."
The War of the Dwarves
Mar-10 | 0-316-04936-0 | 978-0-316-04936-8 | TRADE PAPERBACK | US:$15.99 | CA:$19.99
"The mood in Girdlegard is buoyant, but while Tungdil and the dwarves are celebrating their victory over the treacherous Nôd'onn, an army of orcs is heading north, on course for the dwarven kingdom. The sinister magic of the dead glades has lent the orcs an almost supernatural power and Tungdil and his friends must summon all their strength to keep the beasts at bay.
Unbeknownst to them, greater dangers lie ahead: eleven descendants of the dark lord Tion are marching on Girdlegard's western border, accompanied by an army of warriors. But real dwarves never give in, no matter how bad the odds…"
Divine Misfortune
Mar-10 | 0-316-04127-0 | 978-0-316-04127-0 | HARDCOVER BOOK | US:$19.99 | CA:$24.99
"Like many people in this world, Phil and Terry are just looking for their personal slice of divine assistance. It's not their fault that they decide to settle on Lucky, a raccoon god of good fortune. At first, everything seems to be working fine. But they will soon learn that the world of divine powers is not to be entered into casually.
Lucky, it seems, had a falling out with another ancient god long ago. And while Lucky has moved on with his life, the ancient twisted deity is still nursing a grudge. Add to this a scorned goddess looking for revenge and it starts to become clear that Phil and Terry may have taken on more than they ever bargained for."