- Susan Barnes - December 3rd, 2013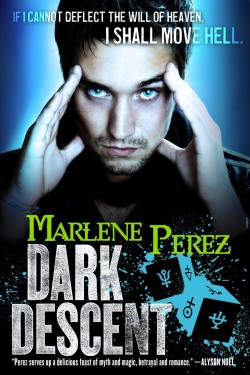 Buy the Book
DARK DESCENT, book two in Marlene Perez's Nyx Fortuna series, launches this week! If you enjoyed Nyx's wry humor and non-stop action life, you will love what Perez has in store for you next.
Nyx, still reeling from Elizabeth's betrayal, has no time to rest. His cousin Claire has gone missing and his aunts, the three Fates, are threatening that if he doesn't find her, Elizabeth will suffer.

Now, despite how he may feel, Nyx must venture into the underworld of Minneapolis to find his wayward cousin, lost to the thrall of Hecate's dark magic.  But releasing Claire is not without its consequences. While it might fulfill the prophecy foretelling the fall of the Fates that have plagued him for so long, it would also mean releasing Hecate from her dark prison… and into our world. Nyx must now decide. How far would he go to save the woman he loves…. the woman who betrayed him?
Praise for the Nyx Fortuna series:
"Skillfully rendered in crisp, edgy prose, STRANGE FATES offers an exciting start to what's sure to be a winning new series. I can't wait to follow the sexy-as-heck Nyx Fortuna into the next installment!"
— Alyson Noël, #1 New York Timesbestselling author
"An intriguing protagonist, snappy dialogue, and a fast-paced plot."
— Publisher's Weekly
"Nyx is a likable hero and provides a refreshing change from the usual urban fantasy fare."
— Library Journal
To start from the beginning of this awesome series, check out STRANGE FATES and read an excerpt here.