Tad Williams announces Otherland MMORPG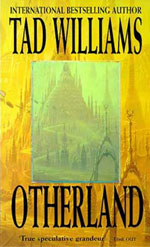 Tad Williams has officially announced that his massive and magnificent Otherland series is being developed as a massively multiplayer online roleplaying game (MMORPG).
In Tad's words:
It's being made by RealU in Singapore, published by dtp entertainment, and it's a major project. The entire Singapore studio is devoted solely to the game, and they're approaching eighty employees. More importantly, though, they're doing a beautiful, fascinating job, not just duplicating or doing a pastiche of the books, but trying to take what is original and interesting in the work and opening it out into an entirely new realm, the MMORPG. Into the virtual world, that is, and what could be more appropriate for Otherland?
You can read the announcement in detail on Tad's blog at www.tadwilliams.com and see him talk about the project in a video interview at www.mmorpg.com.
It sounds, from the interview in particular, as though Otherland the MMORPG will be a highly original take on the online roleplaying concept, one that puts the key element of interactive story-telling right at the heart of the gaming experience. Pre-order those virtual-reality goggles now…