How Victorious is the Victorious Parasol?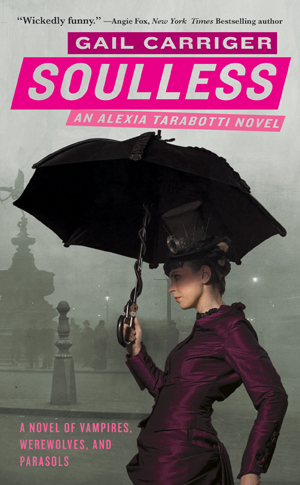 Gail Carriger's debut novel SOULLESS (the first volume in The Parasol Protectorate) went on sale last week. Readers have been awaiting this one since the buzz began this past spring. Publishers Weekly called it 'intoxicatingly witty." Romantic Times gave it four and a half stars. Time's Lev Grossman, blurbing the book, called it "ravishing" and said that it has "all the delicate charm of a Victorian parasol, and all the wicked force of a Victorian parasol secretly weighted with brass shot and expertly wielded."
Pretty good for a start. Now that it's out in the stores, what are people saying?
io9.com:"A character-driven romp with great worldbuilding and delicious rapier wit that recalls Austen and P.G.Wodehouse."
Fresh Fiction:: "There are not many books I can recommend that will make you want to drop everything you are doing and run out to your nearest bookstore to buy. SOULLESS is one of them."
SFRevu : "I was enchanted from start to finish."
Falcata Times:"It's a corker and definitely something that's new in the field that I suspect will win Gail fans by the bucketload."
The verdict. Extremely victorious, and getting more so every day.
Oh, and don't forget to pick up a piece of treacle tart on your way back from the bookstore.