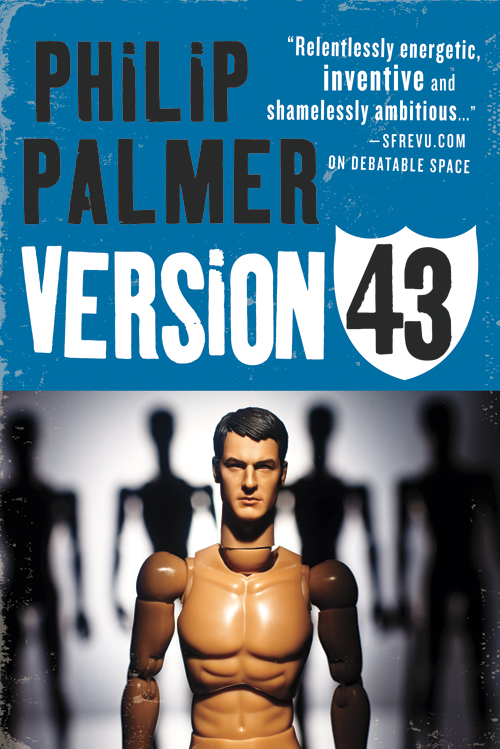 In book design generally, but especially in sci-fi/fantasy book covers, there's always a lot of talk about series looks, and sometimes that extends to author looks. Even if an author isn't writing books in a series, I always attempt to establish a look for them that can tie together all of their books. As a fan, I love it when an author has a really distinctive look, so I can tell it's a new book by them from a mile away. Yes, I know as a geek AND a designer I do pay more attention to these things, but I think it is safe to say sci-fi/fantasy fans are a design-aware bunch and very much notice these things. I get a little thrill when I see a whole row of books that are recognizably in a unit. That's why I like to pay attention to spines alot, and try to get as much art (albeit small art) on them as I can.
That is why I am very excited to launch Philip Palmer's next cover: Version 43.
Red Claw was a new look for Philip Palmer, and I just felt that the mashup of pulp sensibility and a somewhat (awkward/odd/humorous/plastic) image perfectly represented what was inside the book, and especially Philip's tone as a writer. I was REALLY pleased when the cover was well-received in press (it got onto the Guardian UK geek gift list, was noted in SciFi Now, got some thumbs-up from the blogosphere). Then, you know, continuing a look sometimes can be harder than thinking it up in the first place. But I hoped reading the manuscript would provide the solution, and an image popped out of the book so strongly that I had to commission the fabulous photographer Eric Westpheling to style and shoot it for me.
I like how I was able to extend the Red Claw feel while changing it up a bit. And now I have to start thinking about the next book…Hell Ship…and the next…because a series just looks better on the shelf when there's a whole bunch of them!
And as you know, it's my favorite thing to hear how much an author loves their new cover.
Here's a description:
The Exodus Universe.
Your odds of surviving quantum teleportation are, more or less, fifty/fifty. The only ones crazy enough to try it are the desperate, the insane, and those sentenced to exile for their crimes.
Belladonna is home to the survivors of the fifty/fifty—and is therefore a planet run by criminals and thieves. But when a horrific and improbable murder catches the attention of the Galactic Police force, one cyborg cop—Version 43—is sent to investigate.
Version 43 has been here before and has old friends and older enemies lying in wait. The cop was human once, but now, he is more program than man and will find a way to clean up this planet once and for all.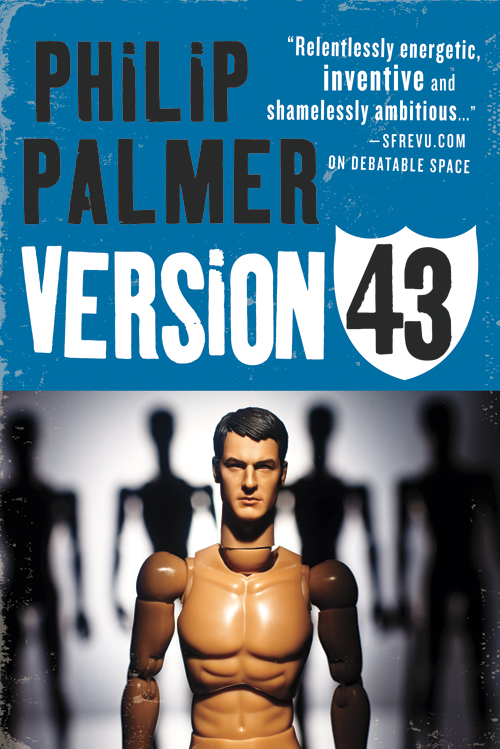 Out in October 2010!