Cover Launch: THE NEON COURT
I know I maybe say a lot of Orbit books are "favorites" of mine, and considering I was a geek way before I was a cover designer, I think I can be forgiven for this. I'm really lucky, as I have to read books for work that I would have read anyway, so I'm understandably a little overenthusiastic. And luckily, I'm a fast reader. It's a point of pride with me that I read almost every manuscript before I start designing – the only time I don't is when for scheduling reasons the full manuscript isn't available by the time I have to start work. (In that case I resort to mercilessly pumping the editor for as much info as I can get.) A pet peeve of mine as a fan is to have a cover misrepresent a book, and I work really hard to make sure that doesn't happen on any Orbit books. So, all that said, I read a TON of books. And I have a lot of favorites in Orbit authors. And then above those Orbit favorites, there's Orbit books I would have preordered, waited on line, had to buy on opening day, if I didn't work here.
The Matthew Swift series by Kate Griffin is absolutely that series. And this is not just a cover post, it is a love letter.
The first book, A Madness of Angels (now out in mass market, so you have no excuse not to pick it up) got me right in my geek soft spot. It has Kate's lyrical, literary writing that made me think immediately of Neil Gaiman's Neverwhere, a really inventive magic system (Image's Phonogram comics are the only similar feel I can think of, although it has nothing to do with music), and such good description of London that I spent my whole last trip there remembering bits of book 2, The Midnight Mayor, which I had most recently read. When I knew The Neon Court was put on the list I plagued the editor daily for the manuscript. And I was thrilled to find out this series is really developing, and getting better. I'm not the only one here who feels this way – even some other Orbit authors were begging to get an early copy of The Midnight Mayor (just released in March).
So what are you waiting for? Go out and read A Madness of Angels already! Maybe you should pick up Midnight Mayor while you're there — out now in Hardcover — I'm pretty confident it'll save you a trip.
Okay, whew, sorry. For you guys out there that are already hooked, here's a teaser:
Mid-sentence and mid-kebab, Matthew Swift is surprised to discover himself summoned across London to a burning tower block.  Inside, there are a variety of angry and/or dead people, having a minor war.
There is also Oda, with a stab wound through her heart and the symbol of the Midnight Mayor drawn on the floor next to her.  Curious thing about Oda, though, is the way in which, despite having a hole in her heart, she's not dead.  That, and she keeps on saying 'we' when she means 'I'…
It will be up to Matthew Swift to stop an impending war, find a mysterious 'chosen one', and figure out if Oda has been inhabited by his very own electric angels – or something far more malevolent.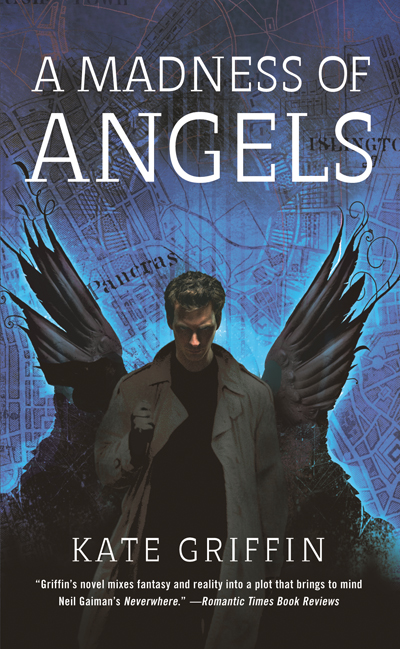 Available now in hardcover and mass market paperback
Available now in hardcover
Out in hardcover March 2011