THE ORPHANED WORLDS storms into existence
The Orphaned Worlds is now out and available for just a few earth pounds from a book vendor near you. Or have a taster first with this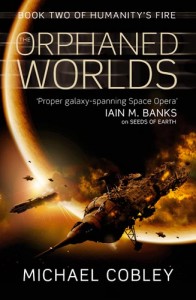 entirely free extract or perhaps a free Orphaned Worlds wallpaper. But Michael Cobley can tell you more about the masterwork himself, as he will be taking part in the SFX Summer of SF Reading event and signing on 10th May, at Waterstone's London Piccadilly store. For SFX competition winners (closing date is tomorrow) the open signing will be followed by a VIP party and panel discussing why more fans of SF on TV/in films don't also read the books, also featuring the talented Mr Cobley. Signed copies of the book will also be available soon from The Forbidden Planet's London branch.
So, to go back to the book itself, The Orphaned Worlds is a rip-roaring ride and we've had a lot of great review coverage from fans. We're lucky to count the Guardian, Waterstone's Books Quarterly and also SFX amongst those fans. Bloggers have also been very supportive and good things have been said by Bookgeeks (win a copy of the Orphaned Worlds comptition currently running) and Walker of Worlds.
So, all in all, hooray for the book!