Cover launch: COLD MAGIC by Kate Elliott
We've spent a long time working on this wonderful visual for Cold Magic (US I UK I ANZ), first in a fabulous new trilogy by Kate Elliott.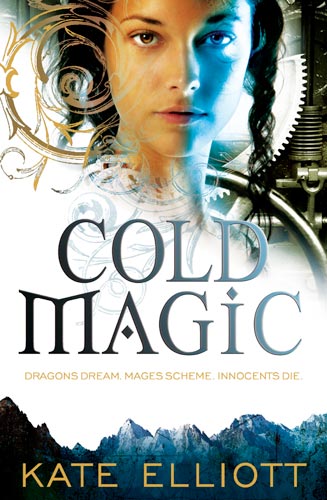 Kate has created something special,  a fantasy advenure with a Victorian-era feel and a dash of steampunk — featuring mages, dragons and two girls who'll decide the fate of their world. I think the illustrator Larry Rostant and designer Peter Cotton have done a great job in capturing these elements, showing a moment in time where ancient magic and new technologies meet, generating powerful individual dramas.
And here's a bit more on Cold Magic, book 1 of the Spiritwalker trilogy, out from Orbit in September.
As they approach adulthood, Cat Barahal and her cousin Bee think they understand the society they live in and their place within it. At a select academy they study new airship technologies and the dawning Industrial Revolution, but magical forces still rule. Drawn into a labyrinth of politics involving blood and old feuds, Cat is betrayed by her family and forced to marry a powerful Cold Mage. As she is carried away to live a new life, fresh dangers threaten her every move and secrets form a language she cannot read. At least, not yet.'