Cover Launch: DEADLINE by Mira Grant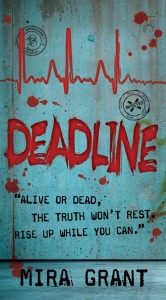 Look, I try not to play favorites in the Orbit-verse, but inside of this mild-mannered Creative Director is an excitable uber-geek fangirl, and I can't help but have a few favorite series here to read as a fan, and I get really really excited when I know the manuscript is in-house for me to read and start working on the cover. This is also a lot of pressure in any series, because especially in the case that you think you did a good job on a cover to Book 1, you certainly want to keep the awesomeness going for Book 2…

When I read Mira Grant's Feed I was completely blown away—and obviously I wasn't the only one, as the author (under her real name, Seanan McGuire) won the Campbell award for new authors at the Hugos this year AND Feed was named one of NPR's "Top 100 Killer Thrillers". We obsessed over the cover here, and I was really happy with how it came out. When the editor FINALLY let me read the manuscript for Deadline I pretty much told my husband I was unavailable for the day and tore through it. It is, if possible, even better than Feed. After the last word I put my iPad down and ran around the house yelling about it, immediately shot off an email to the editor, then had a small nervous breakdown about having to do the cover.
The titles Feed, Deadline, and Blackout (yes, I'm already obsessing about having to design Book 3) are great in their double-meanings, and of course, we had to show that again on the cover. Obviously the cover depicts an EKG line, and highlights the medical meaning of the term "deadline". The cover should also give a hint that the author continues to develop the really fascinating look into how the medical community and CDC might respond to an epidemic of apocalyptic proportions. I am going to stop talking about it now for fear that I'll give something away, and give you the editor-approved teaser:
"I guess in the end, it doesn't matter what we wanted.  What matters is what we chose to do with the things we had. —Georgia Mason"
Shaun Mason is a man without a mission. Not even running the news organization he built with his sister has the same urgency as it used to. Playing with dead things just doesn't seem as fun when you've lost as much as he has.
But when a CDC researcher fakes her own death and appears on his doorstep with a ravenous pack of zombies in tow, Shaun has a newfound interest in life. Because she brings news—he may have put down the monster who attacked them, but the conspiracy is far from dead.
Now, Shaun hits the road to find what truth can be found at the end of a shotgun.
Here are the covers together in full size:
If you have read Feed already, then you are as desperate to read more of the story of Georgia & Shaun Mason as I am, so I am not going to have to convince you to pick up Deadline. However if you haven't read Feed, you really must.
Mira Grant lives in California, sleeps with a machete under her bed, and highly suggests you do the same. And if you want to catch up with her directly, she's on Twitter: @MiraGrant (aka @seananmcguire)