Cover Launch: KINGDOMS OF DUST by Amanda Downum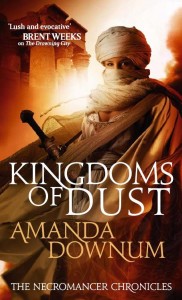 Behold the new artwork for the upcoming Kingdoms of Dust – Amanda Downum's rich and exotic fantasy adventure featuring necromancer-spy Isyllt Iskaldur.  
Larry Rostant has done us proud yet again with his luxurious imagery, which we feel perfectly suits Amanda's lush and atmospheric writing style. And the visual sums up the epic setting for this book: think fiery red deserts, swirling sandstorms and ruined cities . . .
It's the perfect addition to the gorgeous artwork for the rest of the Necromancer Chronicles series (see all the covers together below). And the joy is that, since these books can be read as stand-alones, you can pick up whichever book most appeals to you first . . . A difficult choice indeed! Larry Rostant: we truly heart you. And tons of thanks must also go to our very talented UK designer Peter Cotton, who put all of these covers together. 
Here's a look at what you can expect from Kingoms of Dust when it's out in December in all territories:
With her master dead and her oaths foresworn, necromancer and spy Isyllt Iskaldur finds herself in exile . . .
Hounded by assassins, she seeks asylum in Assar, the empire she so recently worked to undermine. There, warlords threaten the Empire's fragile peace, and the empress is beset by enemies within the court. Even worse, darkness stirs in the deep desert. Ancient spirits are waking that could destroy Assar faster than any army.
Isyllt must travel into the heart of the desert to lay the darkness there to rest once more. But first she must stop an order of mages that will do anything to keep the Empire safe – even raze it to dust.