Deals! There have been a few. Perhaps this is an understatement. There have been many and now I have to trace my brain back to the last time I've posted — please excuse me if you are already aware of some of the below already.
In March, Orbit worldwide also acquired OUT FOR BLOOD and LAST BLOOD in the House of Comarre series by Kristen Painter.  Kristen is the author of the upcoming BLOOD RIGHTS (quickly followed by FLESH AND BLOOD and BAD BLOOD) in Fall 2011 with three books in three months.
Orbit US has signed for four new novels with Joe Abercrombie. The first will be a standalone and then a trilogy — all set in the same world as the First Law trilogy.  Joe is hard at work writing as we speak! And I can't wait to read his newest, which we plan to publish next fall 2012!
Orbit worldwide also acquired two new novels from the acclaimed N.K. Jemisin: THE KILLING MOON and THE SHADOWED SUN. We'll be publishing them in May 2012 and June 2012. I absolutely loved the KILLING MOON — and then THE SHADOWED SUN blew me out of the water — it's full of assassin priests, mad kings and a goddess of death.  Nora has been nominated for the Hugo and the Locus Award for Best First Novel (as well as a host of other awards). We'll have covers for you soon on those two…
And finally, Orbit worldwide is publishing a new Lilith Saintcrow series. It is tentatively titled THE IRON WYRM AFFAIR (As in Bannon and Clare in…THE IRON WYRM AFFAIR).  Lilith has outdone herself in this amazing Victorian steampunk urban fantasy (yes! I already read the first draft!!!). I won't give much away other than to say imagine Sherlock Homes and Dr. Watson — if Dr. Watson was a sorceress. It will be out next August 2012.

Deliveries!

To list a few to make you all JEALOUS.
I've read the final Alexia Tarabotti novel, TIMELESS by Gail Carriger (out next March 2012) and it's phenomenal.
Kate Elliott turned in COLD FIRE, #2 in the Spirit Walker series and we'll see the hunter who is stalking Cat. Dangerous! It's out this September 2011.
The final novel in N.K. Jemisin's Inheritance trilogy, THE KINGDOM OF GODS, will be out in October 2011. It is a perfect end to a trilogy and even has a short story that made me (Evil Editor!) tear up.
I have in EYE OF THE TEMPEST by Nicole Peeler — her fourth book out this Autumn.  SO MUCH FUN!
Lilith Saintcrow turned in ANGEL TOWN, the final book of the Jill Kismet. There is a grave, maggots, and dead flesh. Need I say more? Out in November 2011.
Jaye Wells turned in SILVER-TONGUED DEVIL. The fourth Sabina Kane novel kicks some serious demon ass and you'll see it in shelves in January 2012.
And a few from DongWon: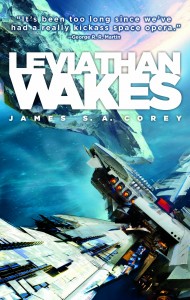 Daniel Abraham has turned in THE KING'S BLOOD, the sequel to THE DRAGON'S PATH and it is awesome. It gets real, yo.
And, since Daniel is the hardest working man in publishing, he and his co-author Ty Franck delivered the second book in The Expanse series, CALIBAN'S WAR under the James S.A. Corey pseudonym.
Finally Amanda Downum came in the with the third Necromancer Chronicles book, THE KINGDOMS OF DUST which features more jinn, necromancers, and demons than you can shake a stick at.
Exciting times at Orbit!