Two new short stories from Orbit Short Fiction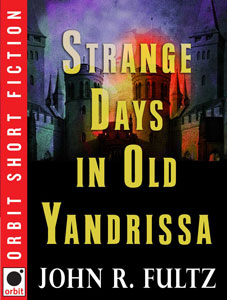 We're shaking things up this March by publishing TWO new pieces of short fiction for fantasy and science fiction readers alike. Whether you like swords or railguns, Orbit Short Fiction has something to suit your fancy.
STRANGE DAYS IN OLD YANDRISSA by John. R. Fultz: In an age of untamed miracles and curses, a mad vagabond may solve the mystery of a king's dilemma. Yet in a world gone mad, the only wise man is a fool. This is a great story for readers who enjoy new voices in epic fantasy. John R. Fultz's short fiction has appeared in Black Gate, Weird Tales, Lightspeed, and Space & Time.
A PEOPLE'S ARMY by T.C. McCarthy: In the distant future, on an ice-bound world, Choi Chung Ho is a loyal soldier in the Dear Leader's army. Stuck in a damaged tank with the American advance quickly approaching, he must find a way to survive. Survive the Americans, the blindly patriotic members of his own crew, and, most dangerous of all, the shifting politics of the North Korean military. T.C. McCarthy  explores the nature of military and political conflict in vivid and graphic detail in a futuristic world war like no other.
If this is your first time reading the work of either author, be sure and check out their full-length novels too.
Praise for SEVEN PRINCES:
"A stand-out fantasy series from an author with an exceptional talent for characterization and world building." — Library Journal (Starred Review)

"What Seven Princes [offers] is breakneck pacing and nonstop insanity. It's epic with a capital EPIC."
— io9.com, 2012
Praise for GERMLINE and EXOGENE
"Simultaneously heartbreaking and triumphant."
— Publishers Weekly, 2012  (Starred Review)

"This exciting and thoughtful story marks McCarthy as one of sci-fi's most promising new talents."
— Kirkus, 2012  (Starred Review)