Cover Launch: RED COUNTRY by JOE ABERCROMBIE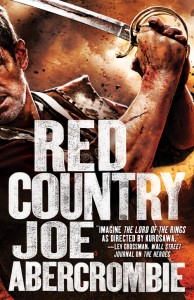 So, yesterday I got about a bajillion tweets and emails after the cover leak saying in general, "WTF NO ABERCROMBIE?!" Nothing I like more than enthusiastic fans. I'm sorry, we just weren't ready in time for the cover leak. But what a difference a day makes! So here, feast your ravenous curiosity on the cover for RED COUNTRY. I know there's been heated speculation over the cast of characters to be expected, and I have to admit, I think our cover lets a very serious cat out of the bag. Whew, glad to release that, the security around this has been intense.
Here's a bit of teaser to get you guys even more excited:
Shy South comes home to her farm to find a blackened shell, her brother and sister stolen, and knows she'll have to go back to her bad old ways if she's ever to see them again. She sets off in pursuit with only her cowardly old stepfather Lamb for company. But it turns out he's hiding a bloody past of his own. None bloodier.
Their journey will take them across the lawless plains, to a frontier town gripped by gold fever, through feuds, duels, and massacres, high into unmapped mountains to a reckoning with ancient enemies, and force them into alliance with Nicomo Cosca, infamous soldier of fortune, a man no one should ever have to trust . . . .
Red Country is out in hardcover November 2012!
And here's all the covers together, click to see them biggified:
I'm super excited to be able to continue our new US cover style from the trade paperbacks of The Heroes and Best Served Cold into the hardcover of Red Country. These have been the most epic photo shoots I've ever participated in, and Michael Frost and Gene Mollica have done an excellent job casting, styling, and producing fantastic images. The model for this shoot was particularly into the shoot, having been Pierce Brosnan's Bond stunt double! Extra credit.
We were so focused on getting the cover exactly right (moar blood! moar dirt! big pointy sword!) that I couldn't do a video of the shoot, but I do have some fun behind-the-scenes pictures I can share…some days, my job is unbelievably awesome, I can't deny.