THE HEIR OF NIGHT wins the David Gemmell Morningstar Award!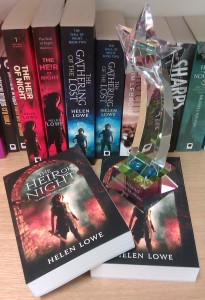 We're all absolutely thrilled to announce that Helen Lowe has won the David Gemmell Morningstar Award for her brilliant debut fantasy THE HEIR OF NIGHT! (UK | ANZ)
Biggest congratulations go to Helen – we can't think of anyone who deserves this more. We're constantly amazed by her hard work and her skillfully plotted fantasy writing, (we just can't wait for her third novel, DAUGHTER OF BLOOD) and we're delighted that she's been recognised in this way.
The win was announced on Friday evening, in a glamorous ceremony held at the Magic Circle Headquarters in London – some photos of the awards ceremony below. Congratulations also go to the other winners on the night: Patrick Rothfuss, who won the Legend Award, and Raymond Swanland, who took home the Ravenheart Award for best cover art.
The Morningstar is awarded to the Best Fantasy Newcomer of the year. Here's Helen's announcement on her website, and the acceptance speech that was read out on the night.