Cover launch! EXISTENCE and the new-look David Brins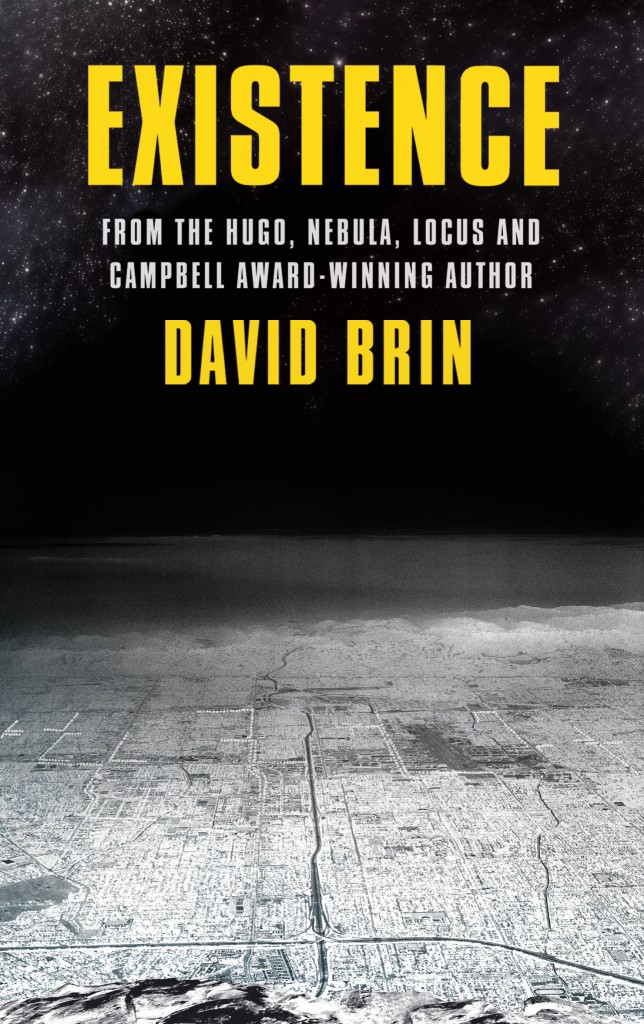 This November, we're releasing the paperback edition of David Brin's science fiction masterpiece EXISTENCE (UK | ANZ). It's his first novel to be released in ten years, and he's truly returned in triumphant form.
It's a breathtaking novel about First Contact – one that asks 'why are we alone?' and 'are all civilisations doomed to fail?' And it does it in spectacular, imaginative, mind-boggling, heart-thumping style.
See the paperback cover to the left and just a few of the reviews this unmissable book has been receiving:
'Cleverly argued and uncomfortably plausible' SUNDAY TELEGRAPH

'A masterpiece of rock-hard SF' SUN

'Brin tackles a plethora of cutting-edge concepts…with the skill of a visionary futurologist' GUARDIAN

'Bursting with ideas, including near-future tech, first contact with aliens, and the exploration of what it means to be human' i09.com

'Existence is my top SF novel of 2012 and I recommend it without hesitation' SFFWORLD.COM
But it's not just EXISTENCE that we're releasing this winter. We're also giving a makeover to some of David Brin's most classic titles. See the new-look covers below in all their glory…
See more info about each title below!
EXISTENCE paperback (UK |ANZ) – released 1st November 2012.
We've always wanted to know our destiny. But when the end seems in sight, how will the world react?
An alien artefact plucked from Earth's orbit throws the world into chaos with both warning and a promise. For the movie mogul with a talent for spinning facts, the public doesn't know what's best for them. And for the reporter determined to discover the truth, the world needs to know what's at stake.
All are determined to hold off Armageddon. All will play their part in what's to come.
THE POSTMAN (UK | ANZ) – released 1st November 2012
He was a survivor – a wanderer who traded tales for food and shelter in the dark and savage aftermath of a devastating war.
But when he borrows the jacket of a long-dead postal worker, his life changes for ever. As he journeys from one isolated community to the next, the old, worn uniform becomes far more than a protection against the unrelenting cold: it becomes a reminder of how things were before the world collapsed – and a symbol for how things might be again. And his story becomes one of a lie that turns into the most important kind of truth.
Against a background of global failure, THE POSTMAN is a powerful and affecting novel of the survival of the human spirit.
EARTH ( UK | ANZ ) – released 1st Nov 2012
Decades from now, an artifically-created black hole has accidentally fallen into the earth's core. As scientists frantically work to prevent a disaster, they discover the entire planet could be destroyed within two years.
But while they look for an answer, others argue that the only way to save the Earth is to let its human inhabitants become extinct: to let the million-year evolutionary clock rewind and start over.
Earth is the Hugo and Locus Award-nominated novel that accurately predicted numerous future trends and earned David Brin a reputation as a visionary futurologist. 
UPLIFT: The Complete Original Trilogy (containing SUNDIVER, STARTIDE RISING and THE UPLIFT WAR) – released 6th December 2012
Circling the Sun, under the caverns of Mercury, Expedition Sundiver prepares for the most momentous voyage in our history. A journey into the boiling inferno of the sun, to seek our destiny in the cosmic order of life.
For in a universe in which no species can reach sentience without being 'uplifted' by a patron race, it seems that only mankind has reached for the stars unaided. And now, the greatest mystery of all may be explained . . .
EXILES: The Second Uplift Omnibus (containing BRIGHTNESS REEF, INFINITY'S SHORE and HEAVEN'S REACH) – released 17th Jan 2013
On the distant planet of Jijo, six exiled races live side by side. Only ancient relics from their home planets remind the dispossessed of a more noble past, when they were full citizens of the Five Galaxies. The races of Jijo, it seems, have been forgotten, along with whatever crimes they committed. But for how long?
It is at the time of the Gathering, the council of the sages, when the spacecraft is first spotted. For some, it offers a new hope. For others, it heralds a time of reckoning.