Photos From Brent Weeks's UK Tour!
- The Orbit Team - October 4th, 2012
After two weeks spent travelling around the US on his 15-date book-signing tour, Brent Weeks hopped across the pond to meet his UK fans and sign copies of his New York Times bestselling novel THE BLINDING KNIFE [UK | US | ANZ].
Brent's UK tour took in nine cities in eight days and involved hundreds of fans who enjoyed a brilliant reading (with a shocking twist for which his editor still hasn't forgiven him!) before chatting with Brent and getting their books signed. Brent also spent a full day at Fantasycon in Brighton, where he was a Guest of Honour and took part in a variety of panels.
We thought the tour was a huge success – thanks to everyone who attended! – and Brent clearly thought so too:
Here are some photos from Brent's week in the UK.
We thought we ought to help Brent acclimatise to the UK, so before his tour began we invited him and his wife Kristi along to Orbit HQ in London where we drank tea while discussing the weather.
Brent's first call of duty was a signing at Forbidden Planet's flagship store in London, where a huge crowd turned up to meet him.
Brent demonstrates his Jedi mind tricks at his Nottingham book signing.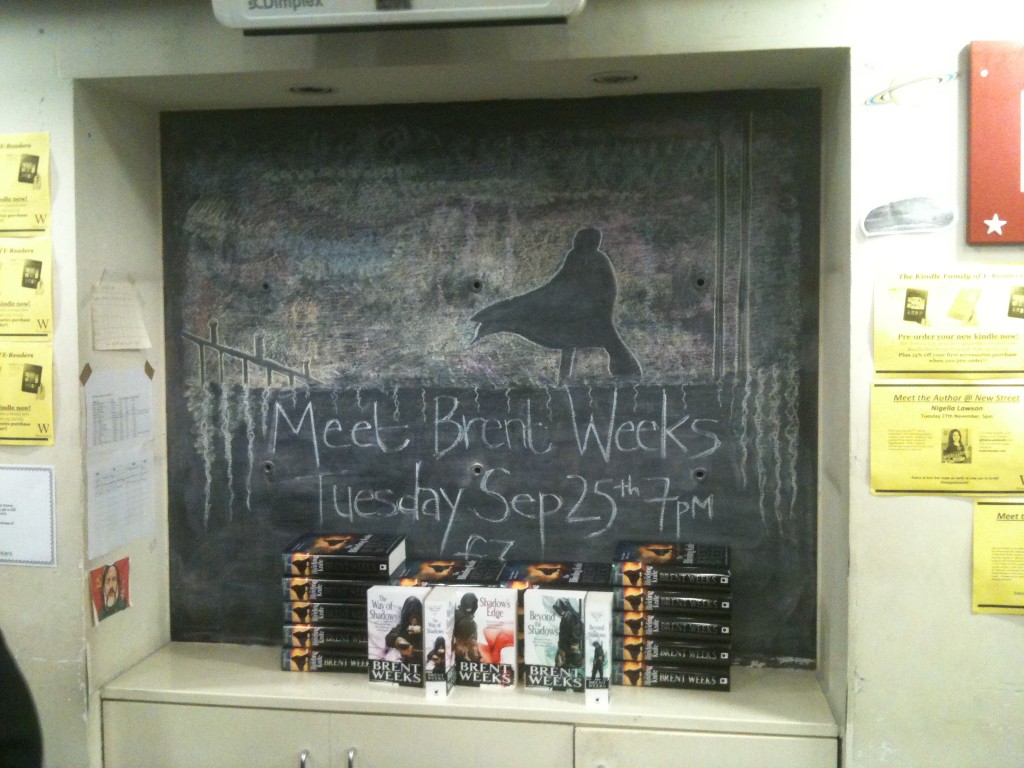 Birmingham Waterstones were particularly excited about hosting Brent – so much so that they doodled this display on their chalkboard.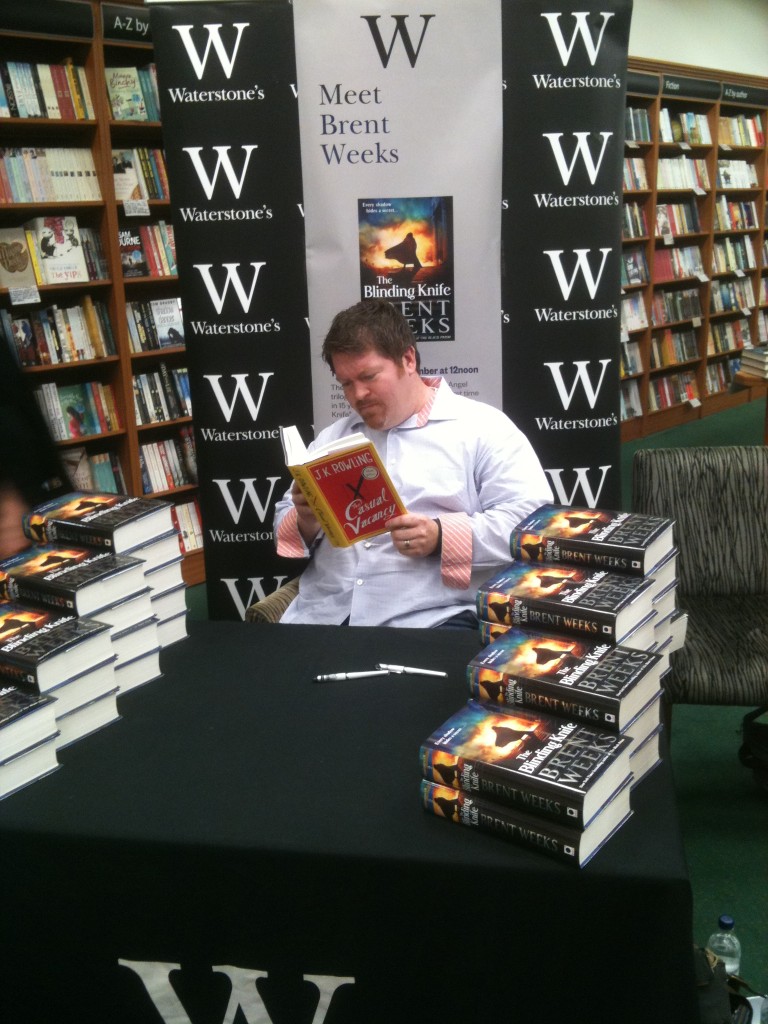 There was precious little downtime during events, but Brent snatched a few moments during his Milton Keynes signing to read a new novel by a little-known author . . .
THE BLINDING KNIFE – book two in the Lightbringer series – is available now and has so far received some glowing reviews:
Places Brent Weeks on comfortable footing beside contemporaries like Brandon Sanderson and Joe Abercrombie, if not a step above . . . One of the best Fantasy books of 2012″ – A DRIBBLE OF INK

"The Blinding Knife is just great stuff, an exuberant epic fantasy that I could read thousands of pages of and still want more" – FANTASY BOOK CRITIC

"Great action, great characters and lots of politics and manipulations to keep the reader on their toes to the very last pages. Superb reading" – THE BOOKBAG

"The mark of a good fantasy is that it can surprise you, catch you off guard, really make you feel what the characters are feeling, and this one does with a good, solid kick to the gut. Several times. And each time it feels good. The twists, shocks and heart wrenching blows keep coming and by the end you will be begging for more. The next in the series simply cannot come soon enough" – British Fantasy Society
Brent can be found online at his website, official Facebook page and also on Twitter.