SPIRIT'S END – The Epic Conclusion to the Eli Monpress Series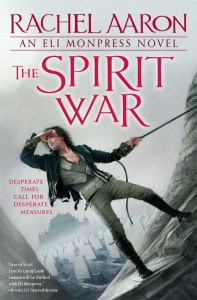 One of my greatest privileges since coming to work at Orbit has been working on the Eli Monpress series by Rachel Aaron. Following Eli on his fantastic journeys was always hilarious, entertaining, and unexpected. So it is with great pleasure (and a bit of sadness) that we release the final Eli Monpress novel, SPIRIT'S END (US | UK | AUS).
Eli Monpress is clever, he's determined, and he's in way over his head.
First rule of thievery: don't be a hero. When Eli broke the rules and saved the Council Kingdoms, he thought he knew the price, but resuming his place as the Shepherdess's favorite isn't as simple as bowing his head. Now that she has her darling back, Benehime is setting in motion a plan that could destroy everything she was created to protect, and even Eli's charm might not be enough to stop her. But Eli Monpress always has a plan, and with disaster rapidly approaching, he's pulling in every favor he can think of to make it work, including the grudging help of the Spirit Court's new Rector, Miranda Lyonette.
But with the world in panic, the demon stirring, and the Lord of Storms back on the hunt, it's going to take more than luck and charm to pull Eli through this time. He's going to have to break a few more rules and work with some old enemies if he's going to survive.
Praise for the Eli Monpress series:
"Fans of Scott Lynch's Lies of Locke Lamora(2006) will be thrilled with Eli Monpress." –Booklist (Starred Review)
"A romp of a lighthearted fantasy starring an absolutely darling rogue."  — Publishers Weekly
SPIRIT'S END is available in  the US in a stand-alone edition, and in the UK and Australia as the second book in THE REVENGE OF ELI MONPRESS omnibus edition.