HITCHERS by Will McIntosh – be careful who you give a ride to . . .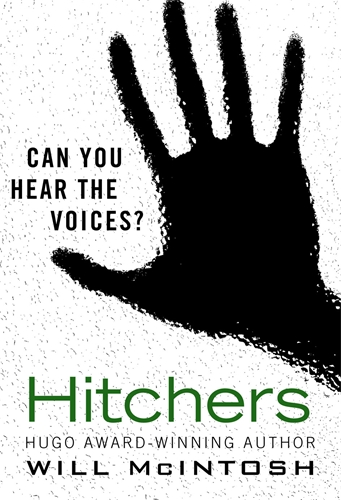 This month Orbit UK digitally released two titles from an award-winning author. I can honestly say that these two novels have affected me so deeply, stayed with me so long, that I just want everyone to read them. EVERYONE. So it's just darn lucky I work in publishing, meaning I can actually help bring these books to you . . . (And yes, this is the best job in the world).
The Hugo Award-winning Will McIntosh has already talked about his debut science fiction novel SOFT APOCALYPSE here, so today I wanted to focus on his other title released this month – HITCHERS.
HITCHERS is a hard book to define. Part horror story, part contemporary supernatural tale, part post-apocalyptic adventure, part touching tale of grief and redemption. But ALL compulsively readable. Chilling, amusing, sad, creepy, gripping, and deeply, deeply affecting.
To start with, the book has just about my favourite prologue ever. Read it here, and see a brief excerpt below:
"You don't think she'll get fired, do you?" Lorena had asked drowsily as we drifted. "I didn't mean to get her in trouble, even though she was incredibly rude to me." She was still ruminating about the argument she'd had with our waitress at the Blue Boy Diner. I was ruminating about the argument I'd had with my grandfather that morning, which had far greater implications for our future.

What I didn't know at the time was that we had no future. We had about twenty-five minutes.
Someone is about to die . . . and this opening sets up one of the most fantastically-crafted and creepy tales you'll read. In fact, in not too long, a terrorist attack is about to wipe out half the population of Finn Darby's home city.
With all this destruction around, it's expected that everyone would be pretty upset. But what isn't expected is the mass phenomenon that starts to occur after the attack. People start to blurt out voices beyond their control. They appear to be taken over by a sinister unknown force, and can do very little about it. What's so disturbing is that these voices sound freakishly similar to the voices of the recently deceased, that somehow the dead seem to be "hitching" onto the living . . .
If I say much more then I'll be giving away too much, but what I really want to get across is how  addictive this book is, how intelligent and multi-layered the writing, how intriguingly unsettling Will McIntosh's view of the afterlife, how heart-wrenchingly attached you'll become to his characters.
***
So the moral of the story is – you need to read this (and that's not even with my publishing hat on).
You also need to look out for LOVE MINUS EIGHTY, which will be a big worldwide release from Orbit next summer.
And you also need to put pressure on Film4 to make sure that they actually make a film out of the rights they optioned for 'Bridesicle', the Hugo award-winning short story that LOVE MINUS EIGHTY is based on, because it would make the best, most wonderfully weird, chilling and entertaining movie ever.
Get mobilised people – let's make this happen.