Epic Fantasy at its Finest – BLOOD SONG is out today!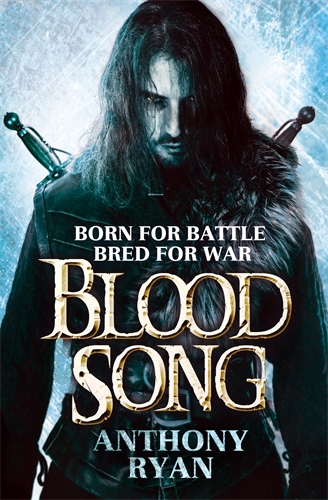 Today sees the publication of BLOOD SONG [UK | ANZ], Anthony Ryan's superb debut novel which is set to be this summer's blockbuster epic fantasy release.
I've been a huge fan of this genre for many years and, as both reader and editor, I'm not easy to please. I know exactly what I want from an epic fantasy novel: memorable characters (of both genders, thank you), a vivid setting and gripping action sequences balanced against razor-sharp intrigue.
BLOOD SONG offers all of these, and so much more.
One particular line jumped out at me when I was reading the novel on submission, and it still resonates in my mind now: "We have fought battles that left more than a hundred corpses on the ground, and not a word of it has ever been set down. The Order fights, but often it fights in shadow, without glory or reward. We have no banners."
I love this line not just because it's a great piece of dialogue, but also for the reason that it really represents the novel as a whole – it encapsulates both the story's strong martial element as well as the healthy dose of intrigue that provides a perfect counterpoint to all the action.
Anthony Ryan's writing carries echoes of the great David Gemmell, partly in his crisp prose and visceral action sequences, but mostly in how conflicted his protagonist is (Anthony himself talked more about Gemmell's heroes in his recent article). Vaelin al Sorna is a classic Gemmellian hero: charismatic and courageous, very handy with a blade, and torn between his duty to the Realm and his loyalty to his friends.
BLOOD SONG is Vaelin's story. About how he rose through the Sixth Order's ranks to become their most feared warrior, how he became the focus of a war between powers both known and unknown, and how he learned that sometimes the truth can cut more deeply than any blade.
It's a novel about loyalty, love and sacrifice – and it's simply brilliant.
Praise for BLOOD SONG:
Blood Song is a tremendous debut . . . fast-paced, action-packed and character-driven" – FANTASY BOOK CRITIC

"A top contender for most impressive debut of the year . . . Blood Song is a powerful epic that, while ending with a sense of closure, hints at more to come" – SFFWORLD

"An utterly engrossing high-fantasy epic from a major new talent that explores themes of war, faith, and loyalty amidst incredible action scenes and artfully developed characters" – BUZZFEED

"I still love – and want – that feeling of completely absorbing escapism that good fantasy can supply – and Blood Song brings it in force" – PORNOKITSCH

"Ryan hits all the high notes of epic fantasy – a gritty setting, ancient magics, ruthless intrigue, divided loyalties and bloody action" – PUBLISHERS WEEKLY

"A new master storyteller has hit the scene" – Michael J. Sullivan
BLOOD SONG is out now in hardback (UK), trade (ANZ) and ebook. Anthony Ryan can be found online at both his website and on Twitter.