The Making of a Cover: Acquisition of the Shadowdance Series
Welcome to the most in-depth, behind-the-scenes, play-by-play account of how a cover is born, from the point of view of the Art Department. We're charting the conception and birth of the Shadowdance series by David Dalglish. I'll be your emcee thru the process, with all the important players chiming in.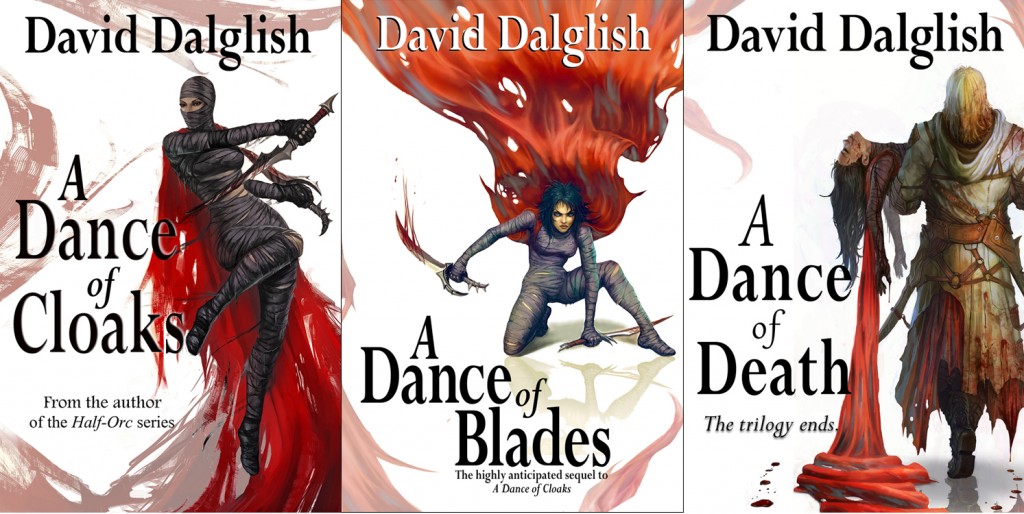 The first stage of any book being born is Acquisition, or how an editor comes to find and buy a book to publish. This can happen a few ways, but by far the most common is for an agent to pitch the manuscript to an editor. Agents are a very important part of the publishing process. They're kind of gatekeepers, coaches, and parents, all rolled up into one. They know the editors working in their genres, and they know what kinds of manuscripts each publishing house is looking for.
Although I do hear a lot about what goes on in the acquisition process, I'm not officially part of it. A lot of times the editors here will have a chat with me about the book they're considering, see what I think we can do with the covers, etc. – but for the most part, this is more Editorial's game, so I'll let you hear from Devi Pillai, Editorial Director of Orbit, and the author himself, David Dalglish. Before I do, though, keep in mind that this was a slightly different case, as David had self-published the series already. Above you can see the original covers he produced for the first 3 books. We'll talk in the next post about comparable titles and marketplace considerations, but in general, they're very nice quality compared to a lot of what I see in the self-published world, so I was happy to be working with an author who had some grasp of what makes a good cover.
FROM DEVI:
Michael Carr, David's fantastic agent, sent me an email asking if I was interested in David Dalglish's Shadowdance series. I, of course, was over the moon to get a chance at working with David and his world. We immediately started the acquisition process which involves considering how we wanted to position the books (which includes the metadata, the covers, etc).  We determined that the books would be better presented as a series versus a trilogy, so we knew we had to change the cover style for all six books. To do this, I brought in Lauren and Kirk from the Art Department to discuss what the cover direction would be. We thought that David's covers had presence with his existing audience, but with rebranding the series, we wanted to go in a different direction.  We loved the photographic, yet very martial arts look of movies like Hero and Crouching Tiger, Hidden Dragon and thought a cover using Haern's cloakdance would be the best portrayal of the series.
FROM DAVID:
When I first came up with the idea for A DANCE OF CLOAKS (US | UK | AUS), the book was very much inspired by Brent Weeks's Night Angel trilogy. Those covers of his, I adored. I studied them a ton, wanting to pick up the subtler things as a way of helping to identify my own books as belonging in a similar vein and genre. I loved the white space, the solitary figure, and the little flourish of color that helped seal it together. And it was those elements I shamelessly ripped off implemented as well. I had a figure upon white background (the faceless woman, Zusa), and it was her deep red cloak that added the flourish of color, as well as a nice artistic over-the-top decoration as it looped around.
Going in, I had a feeling what the new covers would be like, at least in concept. Simply put: they were going to put Haern on the cover. Now I didn't know if he'd be on all of them like he is now, but I knew he'd be gracing the cover of book one, and most likely be looking badass. Beyond that, I could only cross my fingers and wait to see what Orbit's art department came up with.
So in one respect, I was curious how Orbit might remain faithful to my original covers, yet not end up duplicating one of their own previous covers. Was it even possible?