Prequels, because doing things "the right way" is too darn easy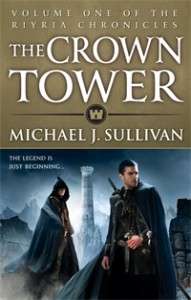 All my life I've done everything wrong, and yet oddly enough, it works for me. I didn't graduate college. I didn't wait to get married, and yet I've stayed married to the same woman for thirty years. I didn't take courses, or read books on how to write, and I gave up my dream of getting published after twenty years of trying. I wrote a six book traditional fantasy series with wizards, dwarves, and elves when such a thing was considered absurd. I self-published when no self-respecting writer would stoop so low, and I signed a contract with a major New York publisher when everyone else was making a fortune in self-publishing. So it should come as no surprise that the next book of mine to be released on August 6th through Orbit, THE CROWN TOWER (US | UK | AUS), is a prequel—because rumor has it no one likes prequels.
As usual, I didn't know there was a stigma regarding prequels any more than I knew there was a stigma around traditional fantasy, or self-publishing until after I did it. Ignorance is bliss, and they say God watches out for children, drunks, and fools. This may be the case, but I refuse to admit which of those I am.
Prequels are apparently disliked for the same reason people dislike sequels and prologues, except prequels are a combination of both. They have been known to feel tacked on and they also precede the interesting events of the primary story. You can feel a yawn approaching just looking at the cover of such a book. Prequels are usually about the childhood years, or possibly even the parents of some main character, and very likely have nothing at all to do with the original story. Once again not knowing all of this, not knowing how I was supposed to build a prequel, I failed to follow these rules. Instead I made the fateful error of fleshing out an origin-story for a legend.
Because I also made the error of writing a fantasy series that didn't include the formative years of my main characters—preferring to focus on them after they'd actually become interesting—I had skipped the episode where Peter Parker is bitten by the radioactive spider, Clark Kent crashed on Earth, and Bruce Wayne sees his parents murdered, (I really hope those weren't spoilers for anyone.) For me it just felt logical to include that story. The fact that the majority of my readers requested it didn't hurt either.
I had a poll on my website for readers of the series to request what they wanted to see next. The vast majority asked for the tale where Royce and Hadrian first met—the backstory to Riyria. Much of the events of that fateful meeting were touched on in the series, but the whole story was never revealed. I knew what happened of course. After all, I've constructed ten thousand years of history to this world. The trick—the challenge—was making a novel out of it. Knowing what happened is one thing, but quite another to try and build a book from backstory. Imagine remembering your first year in high school, sure you know what happened, but can you make a riveting novel out of it, something that has a beginning, middle, and end? Remember you can't change anything that really happened that people might know. It's like building a tree house—you have to create a beautiful, functional living space within the confines of the immovable branches.
The result is a story like the Titanic. Everyone who reads the series knows the boat sinks (I also hope that wasn't another spoiler for anyone,) or in this case, the characters don't die. On the other hand prequels allow me to both, play with expectations, and to flesh out secondary and tertiary characters who have fascinating backstories that simply never got the spotlight. Prequels also allow me to set new plot points in my character's arc, granting readers a longer view perspective from which to judge changes.
The key for me in writing the Riyria prequels—the second (THE ROSE AND THE THORN [US | UK | AUS]) will be out September 17th—was to integrate the stories into the series as a whole. Fitting them like puzzle pieces that answer long pondered questions and providing the foundation to long accepted traits made famous in the series. In this way, the prequels stop being prequels and transform into the books I just left out of the series. Reading them should feel as if you read the Lord of the Rings and discovered The Hobbit later. This, to me, is what a good prequel ought to be. In a similar vein, C.S. Forrester, the author of the Horatio Hornblower series jumped all around when releasing the books that came both before and after his original, and yet when read in chronological order, they present themselves as one story.
Mine have one complication…I have more than one "revelation" that I can't allow to leak out, and as I built these dangerously close to the main storyline, I was playing a game of train-dodge in allowing significant characters to metaphorically brush past each other in hallways. I suspect this will also make the books interesting to those who read the series and have readers checking for mistakes. But don't look too closely, as I mentioned I've done everything wrong—I don't see much point in changing now. (I hope that isn't a spoiler either.)
…
THE CROWN TOWER is out today! Look for it online and in stores everywhere. Book 2 of the Riyria Chronicles, THE ROSE AND THE THORN,  will be out next month. Be sure to pre-order your copy!
Michael is also answering questions on Reddit today. Stop on by and say hello.