Who would you cast in an Expanse television series?
This week Variety announced that Iron Man and Children of Men scribes Mark Fergus and Hawk Ostby will script the pilot of The Expanse, based on a series bestselling novels written by James S.A. Corey, for Alcon Television Group.  Check out the full scoop here.
This of course begs the question: who would you like to see cast in any television adaptation of the series?  Go wild. We can't wait to hear who you would choose.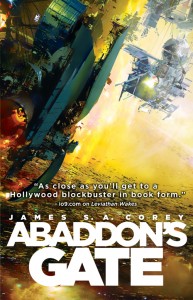 Like the freshly unveiled cover of CIBOLA BURN? Go to SF Signal to see a larger version and also the cover of Daniel Abraham's upcoming THE WIDOW'S HOUSE, book four of the Dagger and the Coin series.