The Making of a Cover: Final Retouched Illustrations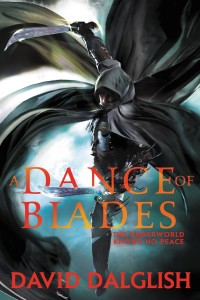 Welcome to the most in-depth, behind-the-scenes, play-by-play account of how a cover is born, from the point of view of the Art Department. We're charting the conception and birth of the Shadowdance series by David Dalglish.
So far we have talked about the first real step of a book, Acquisition, and then what goes into Cover Briefing. Then we let our minds wander and collect inspiration and form Directions for the cover. Then we agreed on a Photographer and Illustrator. We've even found our hero, the Cover Model. And we found a Trampoline for him to do stunt work on safely. We decked him out in book-specific Costume & Props. We spent all day at our Photo Shoot. We received the Rough Cuts, and while the illustrator was working, Kirk was developing the Design Roughs. Here's Kirk Benshoff to talk about the Final Retouched Illustrations:
We figured out what image from the photo shoot to use, figured out the style it needs to be retouched and illustrated so illustrator Gene Mollica could do his thing. Then I figured out how I needed to crop the image and did the type. At this point, the cover is almost finished. Now. we show all the key players (which includes publisher, editor, marketing, and author) so everyone can communicate any concerns or tweaks they may have.  We can sit with the cover and really focus on the little details: Gene's highlights and "glowy magic" on the blades, more smoke here, less smoke there, etc. Some changes cascade to edits to the type: modifying color, tweaking transparency, futzing with the gradient. But in the end, we have a completed front covers for the first three books that was going to be released to the public and feed out to retailers.