"Some cities are naturally holiday cities. London is a Christmas city. Paris is a Valentine's Day city. And no place in the world is a Halloween city more than New Orleans." –The opening lines of "RUSTED VEINS (US | UK)

While I am a huge fan of both New Orleans and Halloween, I not yet had the good luck to be in the Big Easy on All Hallow's Eve. However, I've been to NOLA many, many times over the last decade, and I've researched the city's Halloween traditions extensively (for my book GREEN-EYED DEMON [US | UK | AUS]). Even though we can't all just drop everything and go to New Orleans to celebrate Halloween this year, it doesn't mean we can't bring it to our own houses.
I am not exactly a party planner (except for fictional ones where budget is no object), but I do love to attend a good party, so I've put together my dream New Orleans-themed Halloween party. I'm tempted to throw this party to celebrate the release of my Sabina Kane Halloween novella "Rusted Veins." Since it is available this week and happens to be set in New Orleans, the timing couldn't be more perfect.
The Invites: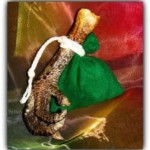 Tie a calligraphied invite to a chicken foot or gris-gris bag for a charming voodoo touch. If it's in the budget, have a second line band deliver them door-to-door while playing a funeral dirge.
The Music:
"Bloodletting" by Concrete Blonde
"Hoodoo" by Muse
"Voodoo Child" by The Jimi Hendrix Experience
"The Witch Queen of New Orleans" by Tom Jones
"504" by the Old 97s
"Louisiana Blues" by Muddy Waters
"Apache Rose Peacock" Red Hot Chili Peppers
The Costumes:
Guests will be invited to dress as their favorite real or fictional New Orleans resident. I've included some suggestions below.
For the ladies:
Marie Laveau, Voodoo Priestess
Madame Delphine Lalaurie, Famous murderess
Lulu White, famous Storyville Madam
Blanch DuBois or Stella Kowalski from Streetcar Named Desire
Anne Rice, author
Bella Donna Boudreaux, from X-Men
For the gentlemen:
The Vampire Lestat and/or his companion Louis de Pointe du lac
Gambit, from the X-Men Stanley Kowalski (STELLA!) from Streetcar Named Desire
Swamp Thing
Truman Capote, author
The Eats:
Blackened chicken, Gruesome gumbo, Bloodred Beans and Rigor mortis Rice, Zombie cake (like a King Cake except with a tiny zombie hidden inside instead of a traditional baby doll)
The Booze:
Abita beer served in plastic cups
Apple cider for the teetotalers (add some bourbon if they're not)
Spooky Sazerac:
3 oz. rye whiskey (Bulleitt is my favorite)
¾ oz simple syrup
Peychaud Bitters, to taste
Splash of absinthe
Lemon Twist
Chill an old fashioned glass by filling it with ice and letting it sit while you prepare the other ingredients. In a separate glass muddle simple syrup and bitters. Add rye and ice to bitters mix and stir. Discard the ice from the original glass. Pour in a small amount of absinthe into glass and swirl it to coat, pour off excess. Strain whiskey mixture into absinthe glass. Squeeze lemon twist over the glass to release its essence (whether you put it into the glass is a matter of debate.
The Favors:
A Bloody Mary kit for the Day of the Dead hangover. Include small bottles of celery salt, Worcester sauce, Tabasco, horseradish, Mr. and Mrs. T's tomato juice, an airline sized bottle of vodka, and pickled okra. You're guests will think you when they wake up the next morning feeling like the walking undead.
Whether you throw a Halloween party or not, I hope you all have a spookyand treat-filled All Hallow's Eve! If you like treats and tricks, be sure to check out RUSTED VEINS!