Out Today: Charlie Fletcher's THE OVERSIGHT!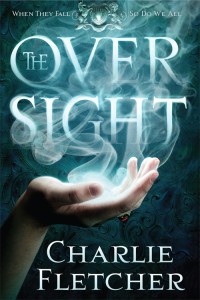 Charlie Fletcher's gothic fantasy THE OVERSIGHT publishes today! Grab yourself a copy in print, digital or audiobook, and embark upon an adventure through a Dickensian London and wild British countryside filled with monsters, danger and intrigue. If you like Neil Gaiman or Terry Pratchett, you're sure to enjoy this tale of dark deeds and even darker magics.
The book's fans already include authors Mike Carey, Adam Roberts, Frances Hardinge and Cory Doctorow, it's taken Twitter by storm, and here's just a sample of some of the fantastic reviews we've seen so far:
'The Oversight is – and let's be clear here – something very special . . . It's oh so moreish a morsel. I'd read a prequel this evening, a sequel as soon as.' – Niall Alexander, Tor.com
'Told in a kind of compelling and hypnotic poesie that I just lapped up . . . I'll certainly be reading the next one.' – Cory Doctorow, BoingBoing.net
'A highly entertaining fantasy that promises a trilogy worth sinking your teeth into.' – SciFiNow
'A remarkable combination of British folklore, brisk pacing and wide-ranging imagination.' – Kirkus Reviews
'Richly atmospheric (the evil lurks in the background of every paragraph), the book should be a big hit with supernatural-fantasy readers . . . the second book can't come soon enough.' – Booklist (starred review) 
Listen to an audio sample at Soundcloud today.