Orbit on the Locus Awards Shortlist!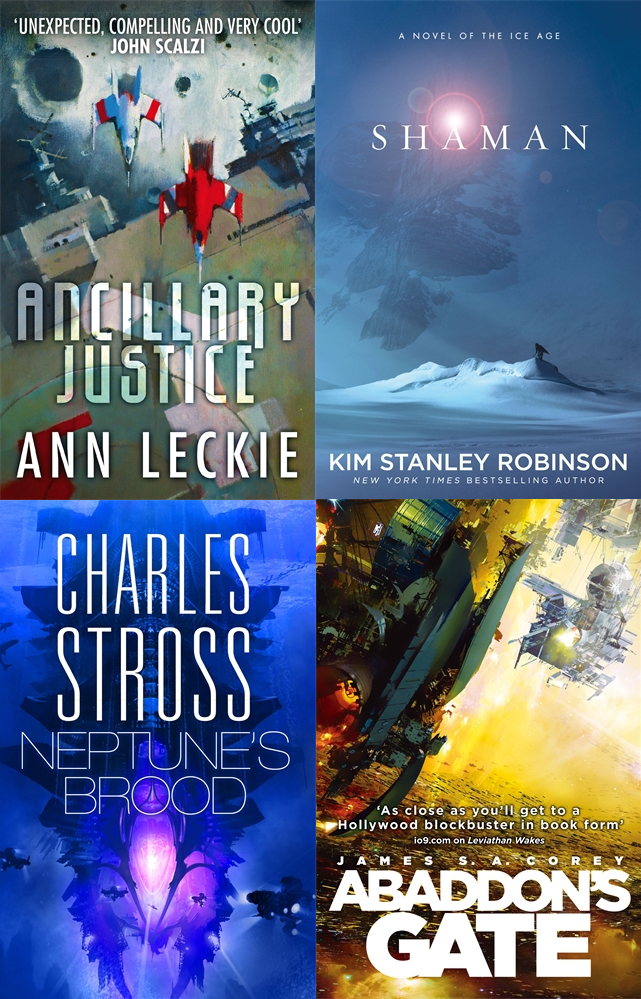 We're very pleased to report that we have three shortlisted nominees on the Locus Award for Best Science Fiction Novel! Our congratulations go to ABADDON'S GATE by James S.A. Corey, SHAMAN by Kim Stanley Robinson, and NEPTUNE'S BROOD by Charles Stross (also nominated for a Hugo Award this year). The awards are voted on by readers of Locus magazine, and the full shortlist is:
MADDADDAM, Margaret Atwood (McClelland & Stewart; Bloomsbury; Talese)
ABADDON'S GATE (US | UK | ANZ), James S.A. Corey (Orbit US; Orbit UK)
THE BEST OF ALL POSSIBLE WORLDS, Karen Lord (Del Rey; Jo Fletcher)
SHAMAN (US | UK | ANZ), Kim Stanley Robinson (Orbit US; Orbit UK)
NEPTUNE'S BROOD, Charles Stross (Ace; Orbit UK) (UK | ANZ)
Congratulations also to Ann Leckie, whose debut ANCILLARY JUSTICE (nominated for many awards this year including the Hugo and Nebula, and winner of the Arthur C. Clarke award, the BSFA and a Kitschie) was nominated in the Best First Novel category. The shortlist is as follows;
ANCILLARY JUSTICE (US | UK |ANZ), Ann Leckie (Orbit US; Orbit UK)
THE GOLEM AND THE JINNI, Helene Wecker (Harper)
THE GOLDEN CITY, J. Kathleen Cheney (Roc)
A STRANGER IN OLONDRIA, Sofia Samatar (Small Beer)
THE THINKING WOMAN'S GUIDE TO REAL MAGIC, Emily Croy Barker (Dorman)
And finally, we ourselves are shortlisted in the Best Publisher category! Best of luck to the other nominees.