Captain Lee Harden Returns – THE REMAINING: AFTERMATH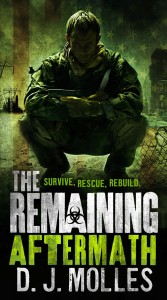 Book two of D.J. Molles's bestselling series is available now in paperback! When a bacterium turns 90% of the population into hyper-aggressive predators, it's up to a group of elite soldiers like Lee Harden to salvage what they can from the wreckage. The obstacles are immense, but failure is not an option. See what's in store for Captain Harden in THE REMAINING: AFTERMATH.
To Captain Lee Harden, the mission to rescue his countrymen and rebuild the nation seems like a distant memory.

Wounded and weaponless, he has stumbled upon a group of survivors who may be his last hope. But a tragedy in the group causes a deep rift and forces him into action.

And in the chaos of a world overrun by infected, Lee is pursued by a new threat: someone who will stop at nothing to keep him from his sworn duty.
If you are new to the series, make sure to check out the first book, THE REMAINING and follow the author on Facebook.

THE REMAINING – Available now.
THE REMAINING: AFTERMATH  – Available now.
THE REMAINING: REFUGEES  – July 2014
THE REMAINING: FRACTURED –  August 2014
Novella 1: THE REMAINING: TRUST
Novella 2: THE REMAINING: FAITH