Magic is a drug. It'll cost more than you can pay. . .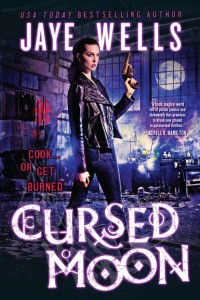 When a rare Blue Moon upsets the magical balance in the city, Detective Kate Prospero and her Magic Enforcement colleagues pitch in to help Babylon PD keep the peace. Between potions going haywire and emotions running high, every cop in the city is on edge. But the moon's impact is especially strong for Kate, who's wrestling with guilt over her use of illegal magic.

When a rogue wizard steals dangerous potions from a local coven, Kate's team must find the thief's hideout before the vengeful coven catches him. But the investigation uncovers the rogue's dangerous plot to unleash chaotic magic on the city. Once the Blue Moon rises no-one's secrets will be safe. Not even Kate's.
CURSED MOON (US | UK | AUS)  by Jaye Wells is out today! I'm very excited as it's the second book in the Prospero's War series and when I read it (oh, a year ago?), I was blown away by what a fantastic writer Jaye is. So if you're not familiar with Jaye Wells, DIRTY MAGIC might be a great place to start. It's fun, with great pacing, tough characters and I would even go so far as to say that it's like The Wire crossed with Wizards.  We have a female cop, Kate Prospero, who came from what we would consider a drug family – but this is a world where potions are the new crack.  And using dirty magic is the only way that people can get their hands on them. And whoa, do these potions have side effect.
What I wanted to get into is Jaye's wickedly, lovely, and VERY twisted imagination.  If  you want more, then Jaye is your girl. I've selected a quick highlight from Cursed Moon to whet your appetite:
Aphrodite herself stood at the rear of the courtyard, bathed in a shaft of sunlight. I was pretty sure she'd planned the position for effect. When we entered the courtyard, she looked up and flipped the long side of her hair back over her shoulder. The left half wore a form-fitting red wiggle dress with red stiletto, while the right half wore half a collared shirt, slacks and a single black wingtip. As she moved forward, she led with the left side and a femme fatale smile.
"Kate—Oh, excuse me, I mean, Detective Prospero," she said, giving me a once-over that left me feeling like I'd come up lacking. Her seductive voice twined through the room like smoke. She sashayed toward us on one high heel and one thick-soled men's dress shoe.
When I'd told Morales Aphrodite was half-female and half-male, I'd meant it literally. The left side of the face was perfectly made up with a shimmery nude eye, bold black eyeliner and a half a mouth lacquered in bold red lipstick. The other half bore carefully cultivated stubble, a bold, unwaxed brow, and not a single lick of makeup.
The weird part was that her lady side was as beautiful and conventionally feminine as her right side was ruggedly handsome and conventionally male. The gender differences extended down her entire body from the clothing to the body hair to the way she was graceful on her left and confident on her right. But to me, the most disconcerting feature was how the voice changed depending on which gender the Hierophant chose at the time.
If you enjoyed this, check out the first chapter, which is available here or start from the beginning with DIRTY MAGIC.
And if the above doesn't convince you, maybe these guys will!
"A fresh, magical world full of potion junkies and alchemists that promises to break new ground in paranormal thrillers."—New York Times bestselling author Laurell K. Hamilton on DIRTY MAGIC
"Jaye Wells raises the urban fantasy bar with Dirty Magic, a hard-boiled series debut as unique and surprising as the creatures and characters peopling it. Kate Prospero is charged with policing the Cauldron, a magical world so fully realized, and so gritty, it gets under your nails. Wells is known for deftly weaving non-stop action with no-holds barred humor, but the unique and deeply drawn relationships are the real alchemy here. Dirty Magic showcases seasoned pro, Wells, at the top of her game, and establishes newcomer Kate Prospero as the urban fantasy heroine to beat."—New York Times bestselling author Vicki Pettersson on DIRTY MAGIC.
"Kate Prospero is my new favorite heroine — imperfect, haunted, driven, and dangerous."—New York Times bestselling author Kevin Hearne on DIRTY MAGIC
"Hold on tight — a gritty new heroine has joined the pantheon of shoot-first, ask-questions-later protagonists."—RT Book Reviews on RED-HEADED STEPCHILD
"A fast-paced fun book"—New York Times bestselling author Charlaine Harris on RED-HEADED STEPCHILD