Get THE INHERITANCE TRILOGY in one volume!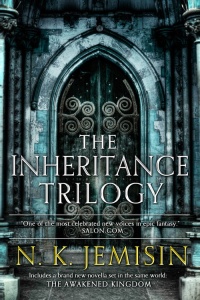 Today we celebrate the US publication of The Inheritance Trilogy omnibus, which includes the novels THE HUNDRED THOUSAND KINGDOMS (US | UK | AUS), THE BROKEN KINGDOMS (US | UK | AUS), and THE KINGDOM OF THE GODS (US | UK | AUS). Since their first publication, these books have received critical acclaim and many award nominations, including the Nebula and Hugo Award. They are an absolute must-read for fantasy fans, containing the excellent world building and superb characters that every one of N.K. Jemisin's books is known for. As a special treat, this omnibus also includes a brand-new novella  in the Inheritance Trilogy world,  THE AWAKENED KINGDOM! You can also purchase the novella by itself wherever e-books are sold.
Last night, we hosted our latest Google+ Hangout: The New Classics of SFFF with N.K. Jemisin and Ann Leckie. If you missed it, you can watch a video of it on Youtube. It's a fascinating discussion of the evolution of language, the SFF genre, and much more. Enjoy!