Ann Leckie's ANCILLARY SWORD is a Nebula Award nominee!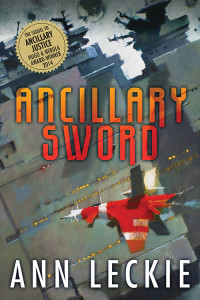 Today, SFWA announced the list of 2014 Nebula Award nominees and Ann Leckie's Ancillary Sword has been nominated for Best Novel, an award that her debut novel Ancillary Justice won last year. Congratulations to Ann and all the nominees!
NOVEL
The Goblin Emperor, Katherine Addison (Tor)
Trial by Fire, Charles E. Gannon (Baen)
Ancillary Sword, Ann Leckie (Orbit US; Orbit UK)
The Three-Body Problem, Cixin Liu, translated by Ken Liu (Tor)
Coming Home, Jack McDevitt (Ace)
Annihilation, Jeff VanderMeer (FSG Originals; Fourth Estate; HarperCollins Canada)
You can see the full list of nominees on the SFWA website.
Speaking of Ann Leckie and the Imperial Radch series, B&N's Sci-Fi & Fantasy blog has the exclusive cover reveal and blurb of the third Ancillary novel, ANCILLARY MERCY!