A New Series by David Dalglish!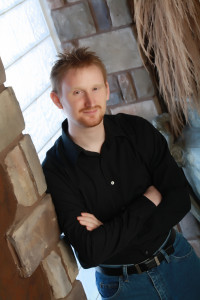 Today, Orbit US & UK are very excited to announce the international acquisition of a new trilogy called the Seraphim by David Dalglish, author of the Shadowdance novels. We'll be publishing the first, Skyborn, this November. I asked David to tell me about about why he is so excited about.
"With, I get to start from scratch in a brand new world, and try out ideas that wouldn't work in a more traditional fantasy setting. But not everything's changing. I love throwing fireballs around, and I love intricate sword fights. It's what I do. It's what I'm good at. In the Seraphim books, you'll experience aerial battles at break-neck speed between elite soldiers flinging ice and fire and lightning at one another before clashing with their blades. How can you not have fun with that?"
Sounds good? I know! You can't wait till November? Don't worry. I'm reading it now and I'm telling you — its worth the wait!