Carey, North and Leckie honoured in UK SF awards
Following on from the successes of Glenda Larke and Trudi Canavan in two important Australian fantasy awards, we've also had fantastic news regarding two UK SF awards.
Today, the shortlist for this year's Arthur C. Clarke awards has been announced. Both THE GIRL WITH ALL THE GIFTS (UK | US | ANZ)  by M. R. Carey and THE FIRST FIFTEEN LIVES OF HARRY AUGUST (UK | US | ANZ) by Claire North are amongst the six titles nominated for this prestigious prize. The winner will be announced at the awards ceremony on 6th May 2015.
On the weekend, ANCILLARY SWORD (US | UK | ANZ) by Ann Leckie also won the BSFA award for Best Novel, voted on by members of the British Science Fiction Association and Eastercon. Ann Leckie's first novel ANCILLARY JUSTICE (US | UK | AUS) also won this award last year, (along with every other major SF award in 2014!). Here are both of Ann's raygun-tastic awards looking all nice and shiny together . . .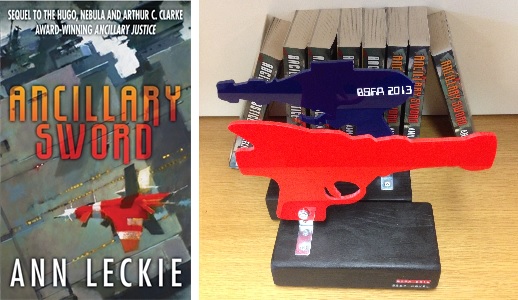 Congrats to Ann Leckie, Claire North, M. R. Carey and all the other shortlisted authors!