Meet the Author: An Interview with Ken MacLeod, Author of THE CORPORATION WARS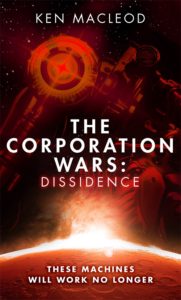 Brand new SF adventure THE CORPORATION WARS: DISSIDENCE publishes this week, so we spoke to Ken about rebel robots and the inspiration behind the book.
Hi Ken! Can you tell our blog readers how you would persuade someone to read The Corporation Wars in just one sentence?

"Robots and walking-dead space mercenaries fight for the future of humanity among the stars!"
What drew you to tell this story?
"As so often, it came from coincidence – I was browsing my bookshelves and was reminded of Hans Moravec's idea that A.I. machinery working for human owners in space might end up following its own path, and at the same time I was flicking through a David Friedman book about the evolution of law. The book just happens to be called The Machinery of Freedom, and suddenly . . ."
The main human character, Carlos, spends a lot of time in a virtual reality and in a robot's body. What is it that makes him still human?
"His memories, his subjective awareness, and his body image seem to do the job for him. Whether we'd think of him as human if we had the misfortune to meet him in a dark alley is another matter."
The robots of the Corporation Wars are truly compelling characters, even though they do not have any emotions per se. How did you tackle the challenge of writing robot conversation in human language?
"By using poetic licence, basically. I follow Brian Aldiss's example, in his classic short story 'Who Can Replace a Man?' and have my robots arguing and thinking like rather annoyingly logical and literal-minded speakers of a natural language like English. And in my view they do have emotions, albeit ones that they express clunkily as 'positive and negative reinforcement'."
Who inspires you as a writer?
"Aldiss, Asimov, Atwood, Ballard, Bass, Banks, Blish, Brunner, Bujold, Delaney, Faber, Harrison, Heinlein, Le Guin, Miller . . . all the way through to Vinge, Wyndham and Zelazny."
Although humanity is exploring the stars in the Corporation Wars, they've brought a lot of their old rivalries and allegiances with them. Do you think we'll ever evolve past conflict, or is it part of what makes us human?
"Besides the conflict between human projects and machine purposes, the stories involve a literal resurrection of an old human conflict, over this very question: whether humanity can ultimately live at peace, whether in a co-operative or a peacefully competitive society, or whether war and domination are ineradicable and possibly even desirable, or at least necessary. I'm firmly of the opinion that peace is possible, though not easy to establish."
Can you tell us a bit about your writing routine – are you a planner or are you more spontaneous?
"I strive to plan, but sometimes I let the story run away with me or take an unexpected turn. And as you know, sometimes this works and sometimes it doesn't, and then has to be painfully unpicked after an editor has asked sharp questions. I really do find that painful, so the more planning the better, I think."
The Corporation Wars trilogy grapples with big questions about A.I. and what it means to be really alive. How close do you think we are to true A.I., and at what point do you think A.I. machines can be considered alive?
"Philosophers talk about 'the hard problem' of consciousness, of subjective awareness. And they're right, it is a hard problem! I used to be confident I had a consistent answer to it, but a lot of long online arguments way back in the 1990s and some further reading convinced me I was mistaken. There's a consistent answer given in the books, but it's not one I could necessarily defend in a rigorous way."
Finally ­– why do so many great SF writers come from Scotland?
"There's only been one great SF writer from Scotland, and we all know who he was."
THE CORPORATION WARS: DISSIDENCE is out now! Listen to an extract from the audiobook here: