The Witcher Is Coming To Netflix – Read the Books That Started It All.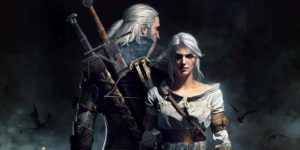 Andrzej Sapkowski's Witcher saga, which started with The Last Wish (US | UK) and has continued over 8 books, is getting the Netflix treatment. In a press release, Netflix Vice President Erik Barmack says, "Andrzej Sapkowski has created a rich and memorable world, at once magical and familiar. We couldn't be more excited about bringing the Witcher saga to Netflix members around the world." Sapkowski, for his part, said, "I'm thrilled that Netflix will be doing an adaptation of my stories, staying true to the source material and the themes that I have spent over thirty years writing."
Sean Daniel and Jason Brown, most recently of The Expanse, will act as executive producers, and Tomek Bagiński and Jarek Sawko from Platige Image, the Polish production and visual effects company that produced many of the cinematics from The Witcher III: The Wild Hunt, will also produce. Additionally, Bagiński will direct at least one episode per season.
 Speaking about the books on which the show will be based, Baginski and Sawko said, "There is a moral and intellectual depth in these books which goes beyond genre. It is a story about today and today's challenges, hidden under a fantasy cover. It is a story about us, about the monster and the hero inside all of our hearts."
Where should you start reading the Witcher books? We've created a handy guide that will get you up to speed on the lore before the show launches!
Read the official press release: Platige Image – THE WITCHER Saga on Netflix